Everything You Need to Know About Real-Time Crime Center (RTCC) Video Wall Technology
Public safety agencies are charged with a critical task: to prevent crime and promote the safety of civilians and officers. To do so, many public safety agencies establish a Real-Time Crime Center, often referred to as an RTCC. In this first post of our real-time crime center blog series, we'll lay down the foundational knowledge about Real-Time Crime Centers and the visualization technology that supports their critical functions.
Real-Time Crime Center for Public Safety Agencies, Defined
A real-time crime center is a hub for police department operations, centralizing all the information the organization has at its disposal for the purpose of supporting public safety efforts. The chief benefit of an RTCC is to reinforce information sharing, allow for efficient criminal identification and apprehension, and support community monitoring initiatives. A real-time crime center supports the goals of public safety agencies to monitor emerging situations, prevent and reduce crime, and to promote and maintain public safety.
If you're looking for more resources that describe crime center practices and identify training opportunities, check out the National Real Time Crime Center Association. This professional organization is comprised of law enforcement personnel who manage or utilize an RTCC.
Crime Center Technology for Collaborative Visualization
As more public safety agencies contemplate adding video walls to operation centers, considerations like hardware, infrastructure, and staffing all come into play. Across the country, law enforcement agencies have come to rely on Haivision video wall technology to support critical visualization activities in their real-time crime center. Not only can visualization technology help real-time crime centers establish a common operating picture, but it can also support multi-agency response and faster decision-making among law enforcement professionals.
About Haivision's Video Wall Technology: Command 360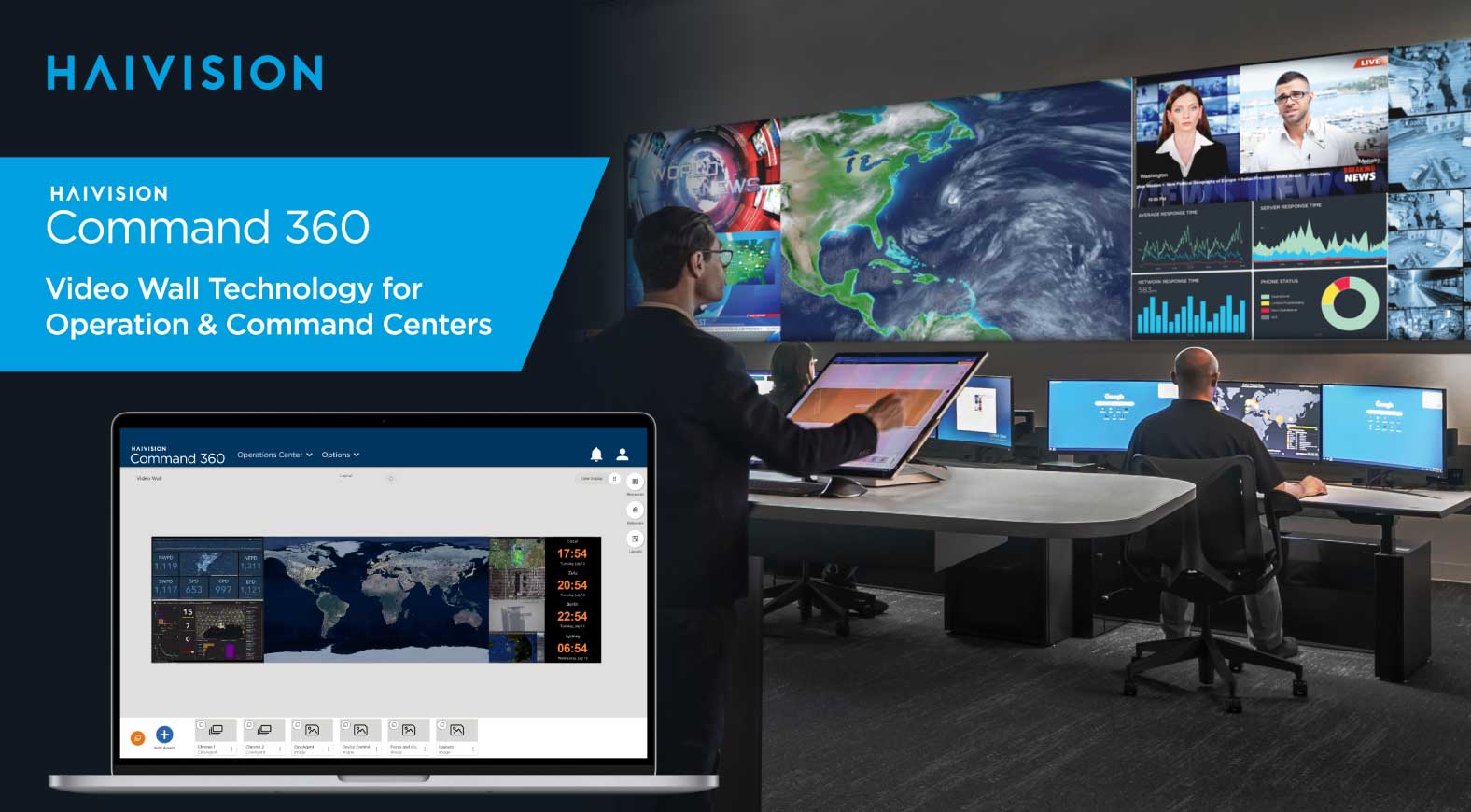 A video wall powered by Haivision Command 360 software centralizes information into one easy-to-use dashboard, allowing officers, operators, and other personnel to view critical information. These incoming information sources can include live video from CCTV cameras, drones and body cameras, 911 calls, gunfire detectors, license plate readers, and officer intelligence from the field, all displayed across one common operating picture. Real-time crime center operators can then provide up-to-the minute situational awareness and critical information to first responders so they can plan and coordinate needed resources, quickly identify and locate criminal suspects, and effectively handle emergency situations.
Fast and Easy Deployment
With the help of Haivision's experts and integrators, video wall systems in real-time crime centers can be set up in days versus weeks or months typically required with other providers.
Centralized Control and Administration
Manage user permissions and access by defining specific actions available to each role and group across multiple operation centers. Customize and maintain your video wall with simple controls – no extensive technical training required.
Multi-Site Scalability
Many real-time crime centers collaborate with other entities and facilities. When multiple sites require visualization, Haivision video wall technology effortlessly scales from single to multi-site operations based on an organization's evolving needs.
Our video wall software platform provides real-time data visualization across any network for improved decision-making and response time.
Case Study: Charlotte-Mecklenburg Police Department
Faced with rapid population growth in the area, the Charlotte-Mecklenburg Police Department (CMPD) and the Charlotte Fire Department (CFD) had a significant need for an effective and efficient public safety operations structure. However, the City of Charlotte's original RTCC and Command Center technology was not able to support the sharing of real-time intelligence to the degree that was needed, presenting barriers to the departments' ability to respond and collaborate effectively.
In 2019, the city began looking for a new visual collaboration system that could integrate with the city's video management system and other sources, operate between multiple control rooms, including an RTCC, a command center, and an emergency operations center, and provide a common operating picture that was easy to adjust on-the-fly.
Haivision's video wall technology was selected to provide situational awareness across these mission-critical environments. Haivision's intuitive platform offered users complete control over video wall layouts and content arrangement, meeting the city's ease-of-use requirements. The video wall solution provided allowed the City of Charlotte to vastly improve its ability to monitor, investigate, and respond to public safety incidents more effectively.
For more details about the implementation, read the full case study here.
Establishing a Real-Time Crime Center
Based on a public safety agency's use case and environment, Haivision works closely with customers to design and deliver a comprehensive video wall solution, that includes displays, processors, content and device management software, and more. Your new custom solution will be installed at your location and fully integrated into your environment. From commissioning to implementation and training, our video wall experts help you to establish the critical components within your real-time crime center.