How to Set Up Your Professional Facebook Live Stream with KB Series Encoder
To build online audiences, organizations, ministries, and enterprises must deliver content to any and every portal within their respective reach and budget. As online video continues to grow, the adoption rates within social ecosystems are growing at great velocity and the Facebook live stream platform is no exception.
Facebook currently enjoys more than 1.65 billion monthly active users, 1.09 billion of whom login on a daily basis. This includes over 4.5 billion "Likes" generated daily. With almost 30% of these users in the target rich 25-34 year old demographic, it is easy to understand why organizations are leveraging this new channel. For more Facebook stats, there's a nice compilation here.
The social giant recently announced Facebook Live giving individuals and organizations the ability to live stream to their Facebook Pages within their ecosystem – for free. Now before you go out and order that Venti Iced Latte to celebrate, let's settle down and talk a little bit about what is involved here.
While Facebook now gives organizations the ability to stream live video from a mobile device directly to their page, your organization might want to stream a more professional looking broadcast. If that's the case, Facebook offers a few tools so you can use your professional video equipment or encoders to stream live. The following are a few tips and strategies to consider when launching a professional live stream on Facebook and how best to engage your live audience.
Setting up your RTMP Stream with Facebook Live and KB Series encoders
Facebook provides a single RTMP Stream and handles transcoding and delivery of a multi-bitrate cascade within their network. To enable your Facebook Live RTMP stream, Facebook will provide you with a Server URL and Stream Key that you'll need to copy and paste into your baseband encoding preset configuration.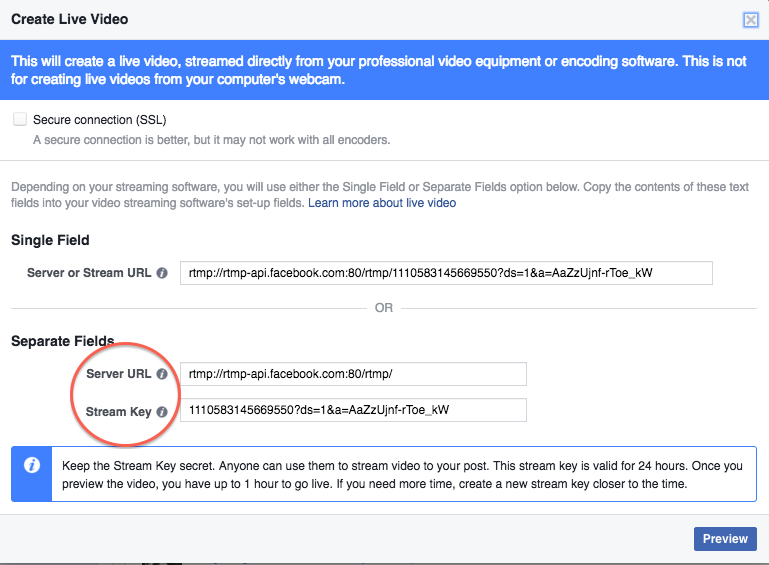 The Server URL and Stream Key can only be used for a single live preview/post connection and you must use the same URL and key to preview the stream and post it to your page. The Server URL and Stream Key have a time limit (Facebook limits all live streaming events to 90 minutes) and expire 24 hours after creation which means any organization that has regularly scheduled events will need to log in to Facebook and create a new key or RTMP Stream for each event.
Starting and Ending Your Facebook Live Stream
Once you select the Go Live button to begin the live stream, or "Post" in Facebook terminology, you will see a red "Live" indicator appear in the embedded video player. Facebook provides minimal key live metrics in the Video Performance section of your page. Simply select the View Post button to navigate directly to the Live post on your page.
In typical Facebook fashion, viewers are encouraged to "Like", comment and react to your content. When the event has ended, the broadcaster simply selects the Finish Live Video button to end the live stream Post. Facebook has added a secondary stop feature so you must confirm stopping the stream by selecting the "End" button in the message box to avoid accidentally ending a Post.
After 90 minutes the Live event will end, and a video recording playback of the event will be embedded in the page's post as a video-on-demand (VOD) file. Any live streaming after the 90-minute limit is considered "Ambient Live Streaming" and is not presented in the same VOD embedded player in your page.
A Few Considerations
The average time spent per Facebook visit is approximately 20 minutes. That being said, broadcasted content has a very brief window of time to capture a viewer, so organizations streaming events to a Facebook page should consider whether their long form content is suitable for their followers.
Many organizations we have spoken with are planning on using Facebook Live to attract new viewers but with an abbreviated portion of the event playing within their page. They are then messaging to the Facebook viewers from inside the player frame and suggesting they migrate to the organization's web site, branded portal or mobile app to watch the rest of the event. Encouraging your audience to leave Facebook for the remainder of the event can give you some more granular management of chat and comment moderating on your other publishing platforms during and following the event.
We also know that every 60 seconds approximately 510 comments are posted on Facebook so, an organization needs to be attuned to the online chatter and moderate or address the comments around their brand accordingly. If your content and messaging are of a spiritual, controversial or sensitive nature, you can almost guarantee comments that can reflect poorly on your speaker or branding, so you need to stay very active on your page throughout the live stream.
Just remember, online engagement is about sharing an impactful message and engaging the audience quickly. The span for an online visitor can be as short as a simple swipe up or down. Since 293,000 statuses are updated every 60 seconds and 4.75 billion pieces of content are shared daily, your window of engagement for a Live Streamed event is brief at best.
To wrap it up, here are a few more best practices recommended by Facebook:
1. Post to your followers when you are going to go live in your page
2. Make sure you have a good solid connection (Hard Wired – no WiFi)
3. Write a compelling description of your Live event
4. Ask Viewers to Subscribe to your Live Event notifications (via the follow button)
5. Respond to comments in your feed during the event
6. Use a closing line or recognizable end action to indicate the Live Broadcast has ended.
In summary, make the most of it and make sure your social streaming strategy is in harmony with the rest of your social media calendar and overall online strategy. If you have questions about Facebook Live streaming for organizations, contact our video experts to set up your own live stream.