Farewell to Flash (Sort of)
Flash is rapidly heading for extinction so you need to be prepared for the fallout.
Adobe Flash, formerly known as 'Shockwave Flash'/'Macromedia Flash', has played a crucial role in bringing multimedia content to the web since its inception in 1996. By providing a platform to make content look and feel the same no matter what kind of computer or browser you had, Flash helped usher in a new era of animations, games, and video to the "Always On" connected world.
Now, 20 years later, we find Flash in the final stages of a long, slow retirement that began in 2010, when Steve Jobs penned his "Thoughts on Flash" blog post and announced that Flash would be persona non grata on the iPhone. Apple's rationale against Flash was that it's insecure, inefficient, and very resource hungry. Eventually, Apple's rationale was proven to be correct, and recently Adobe (owner of the core technology) even threw in the towel, pulling Flash from the Google Play Store and announcing they were ceasing development of Flash for mobile platforms.
Flash is on borrowed time
With the rise of mobile, and the lack of flash on those devices, the writing is and has been on the wall: Flash is on borrowed time. Ever since that initial shot across the Adobe bow, the web world has been slowly migrating to use HTML5 for web content and media. Although Flash's eventual departure means we must endure the (sometimes maddening) personality flaws of our browsers and mobile devices more often than we used to, we must resist the temptation to look back.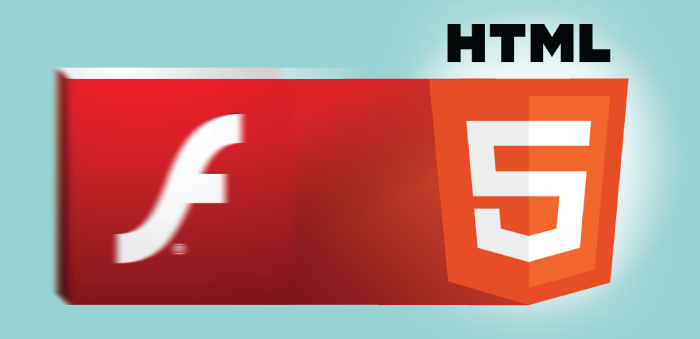 In recent months, Google and Mozilla have announced a few more steps towards Flash retirement and, in the last month of 2016, Chrome and FireFox will make loading a Flash experience more difficult for the user. If a site offers an HTML5 experience, that experience will be preferred and loaded first. The main targets of this change are advertising and analytics widgets; Flash applications such as video players will still work, but users may have to navigate prompts, clicking to activate Flash objects before they can initialize the content. Flash was never fully embraced on mobile platforms where most viewers are consuming rich media content so the impact on these devices is less evident.
What does this mean to you?
So, what does this mean for organizations that are delivering video and feature-rich media experiences to their websites and online campuses? HTTP Live Streaming is the new standard going forward. Web developers should be sensitive to the fact that, without support for HTTP Live Streaming, your viewers will most likely visit another site, or worse, leave and unsubscribe from your organization's content altogether.
For organizations looking to deliver the best possible viewer experience, your video players and media elements must be configured to push an HTML5 version of the content first. Fortunately, from a video delivery perspective, Haivision partners like Akamai are at the forefront of delivery to any device through the use of Adobe's HTTP Dynamic Streaming format (HDS/ F4M) for Flash and Apple's HTTP Live Streaming format (HLS/M3U8) for HTML5 and native device delivery.
Akamai recognized the need early on in the technology product cycle and instituted support for the M3U8 format in short order following its requirement for Apple/iOS App Store approval. Several video services and OTT (Over The Top) solutions have followed suit with Roku, Boxee and others requiring HLS support for delivery of Live and VOD content to their set top boxes.
Similarly, the video player technology in the Haivision Video Cloud is well-equipped to serve users through the transition away from Flash. As individual browsers are still trying to figure out which specific technologies to support, Haivision player technology bridges this gap by attempting to negotiate content playback using the newer HLS/M3U8 delivery in HTML5 first, but also allows Flash to run or load in the container as a second, less functional fallback experience if the visitor's browser doesn't offer the right support.
Where does this leave us?
In Summary, Flash is on the way out the door for desktop browser delivery while mobile device operating systems have already migrated away from Flash. There will continue to be a certain amount of flux around media delivery to end users via web browsers as Flash continues to be sunsetted in the public domain browsers, but we must embrace the future.
Organizations looking to ensure 99.99% delivery and the fastest load times possible across all browsers and devices should make sure any video solution on a live or video on demand platform can deliver HLS/M3U8 via HTML5.
Haivision can help you understand how to best execute your media delivery strategy for your specific audience. Contact us now to make sure your engagement doesn't drop (like Flash).
  

Big Thanks

Thanks to Eric Holbrook for helping contribute to this blog post. As a senior technical account manager at Haivision, Eric's expertise is in enterprise-level content management, from an architectural as well as operational perspective. Before joining Haivision, Eric held technical roles at thePlatform (now Comcast Technology Solutions), MSN, Real Networks, Spry – AOL, and Microsoft.