360-Degree 4K Live Streaming with Panasonic and Haivision's KB 4K Encoder
Think back to your first experience with live streaming video over the internet. Chances are that it was nothing close to the experience that you can now get with a 4K live streaming video experience.
In the early days of the internet, live video was grainy, choppy, and remarkably unreliable. Those who did live stream did so at their own peril, with mixed results that resulted in not much more than a polite head nod from the audience. There were early adopters, though; folks who could test those networks, and who learned to get more out of live streams, even when few people had adopted those protocols.
There will always be early adopters, just like those who are enabling 4K video streams. Enter Panasonic and their new 360-degree Live Camera that, paired with Haivision's KB 4K encoder (the first media encoder certified for use with Panasonic's 4k 360 system) is able to stream live in up to 2160p60 resolution!
Let's take a look at Panasonic's camera, and how you can live stream in incredibly high-quality 360-degree video.
The Panasonic 360 camera and base unit
Panasonic's new live streaming camera makes use of two different pieces of hardware: the Live  Camera System (AW-360C10) along with a base unit (AW36-B10) that produces 360-degree video in uncompressed 4K/30p.
The base unit is the real breakthrough here, as it allows for real-time active stitching without the use of a PC—it's the base unit that is constantly stitching together the output from the four cameras mounted in the camera head.
The real-time stitching is unique, as it "continuously changes the stitching position by automatically detecting a subject at the seam." What this means is that the system adjusts its stitching distance in real time, as opposed to other systems that use some kind of template-based stitching, where you end up with the kind of results that you see in the image below.
And more than just making sure the 360 images are seamless, the camera actually controls the exposure and white balance right at the source. This gives you a perfectly natural transition from camera to camera by maintaining seamless image representation as you see in the image below.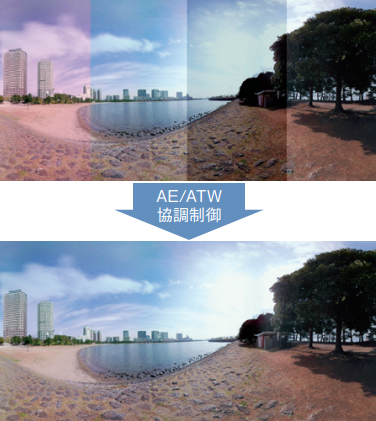 The system (camera and base unit) is perfect for live streaming concerts, sports, and all kinds of stadium-type events where you'd want to give watchers the opportunity to immerse themselves in the entirety of the experience, as though they were right there in the crowd.
Where does the Haivision KB 4K internet streaming encoder come in?
Haivision's KB encoder is no stranger to handling live streams of the highest quality. It was developed to ensure that, even when internet connections at the source are not completely reliable and bandwidth becomes limited, you still get a secure and reliable video stream from the source to the cloud. In a nutshell, you get the most out of your available bandwidth. From our press release:
Haivision's KB 4K Encoder features software and hardware accelerated support for both HEVC/H.265 and H.264 encoding at up to 4K (2160p60) resolution. The Panasonic system stitches together its four 12.76 megapixel cameras in real-time and delivers the 2:1 Equirectangular 360 output as 4K (3840 x 2160) to the KB 4K encoder. The KB encoder then delivers the compressed video over HLS, MPEG-DASH, or Haivision's open standard SRT through a CDN to 360 players.
And you can make use of a small form factor portable KB, or get server configurations for HD and 4K streaming. The choice is yours!
Is it too soon for 4K?
Ask this same question of Google and you can find any number of theories for the yes or no side of this question. For our part, we've always been proponents of future proofing workflows in any live streaming application.
Are there people who have the ability to view live streams in real 4K at the source? Yes! And will there be more and more of them over the next couple of years. Well, of course there will. There is a list of smartphones that are capable of capturing 4K video that is as long as the Google search results for "where to stream 4K video".
So is it too soon for 4K? Absolutely not. In fact, if you're not adopting this new tech now, you're going to be behind the 8-ball very soon.
Want to learn more about 360-degree streaming with Haivision? Download our white paper, "360-Degree VR Streaming: The Video Workflow Behind the Scenes" here!