Haivision Virtual ISR Summit: Real-Time Video for Mission-Critical Applications
In case you missed it, our defense and ISR communications experts recently hosted the first-ever Haivision Virtual ISR Summit. The Summit provided attendees with an overview of Haivision's latest technologies for ISR applications, showcasing new features and providing demos of our key solutions in action. In this post we're sharing a recap of the webinar highlights, starting with the key components of a Haivision ISR solution.
Watch the webinar in full, here.
Haivision ISR Solution Components
Haivision's VP of Product Marketing, Marcus Schioler kicks off the webinar with an introduction to the key components of an end-to-end Haivision ISR solution. These include solutions for encoding video from ISR platforms, optimizing video and metadata for ISR platforms through transcoding, and recording and viewing in real-time for situational awareness.


Video Encoding Solutions for ISR Platforms
Haivision video encoding solutions for ISR platforms include the Makito X4 and Makito X1 Rugged Video Encoders. Widely deployed on fixed, mobile, and wearable platforms these two video encoders are SWaP optimized, offer bandwidth-efficient HEVC and H.264 streaming, high-quality FMV imagery, and are compliant with MISB, STANAG, and CoTS.
Tyler Stephens, Haivision Technical Account Manager provides an overview of the features offered by the Makito X4 Rugged as well as a closer look at two new important additions to the feature set: dual NIC support and Path Redundancy. The dual NIC support is a highly requested customer feature for networking flexibility which allows users to separate management and streaming networks. Ensuring resiliency and reliability of streams in the event of network unpredictability is also now possible with the addition of Haivision's Path Redundancy capability.
Designed specifically for OEM integrations, small platforms, and man-wearable systems, the Makito X1 Rugged is the newest member of the Makito X family. With real customer footage of sub-sea surveillance using a remotely operated vessel, the webinar showcases just why the Makito X1 Rugged, weighing in at just 295 grams, is such a powerful and versatile tool for real-time delivery of motion imagery for ISR.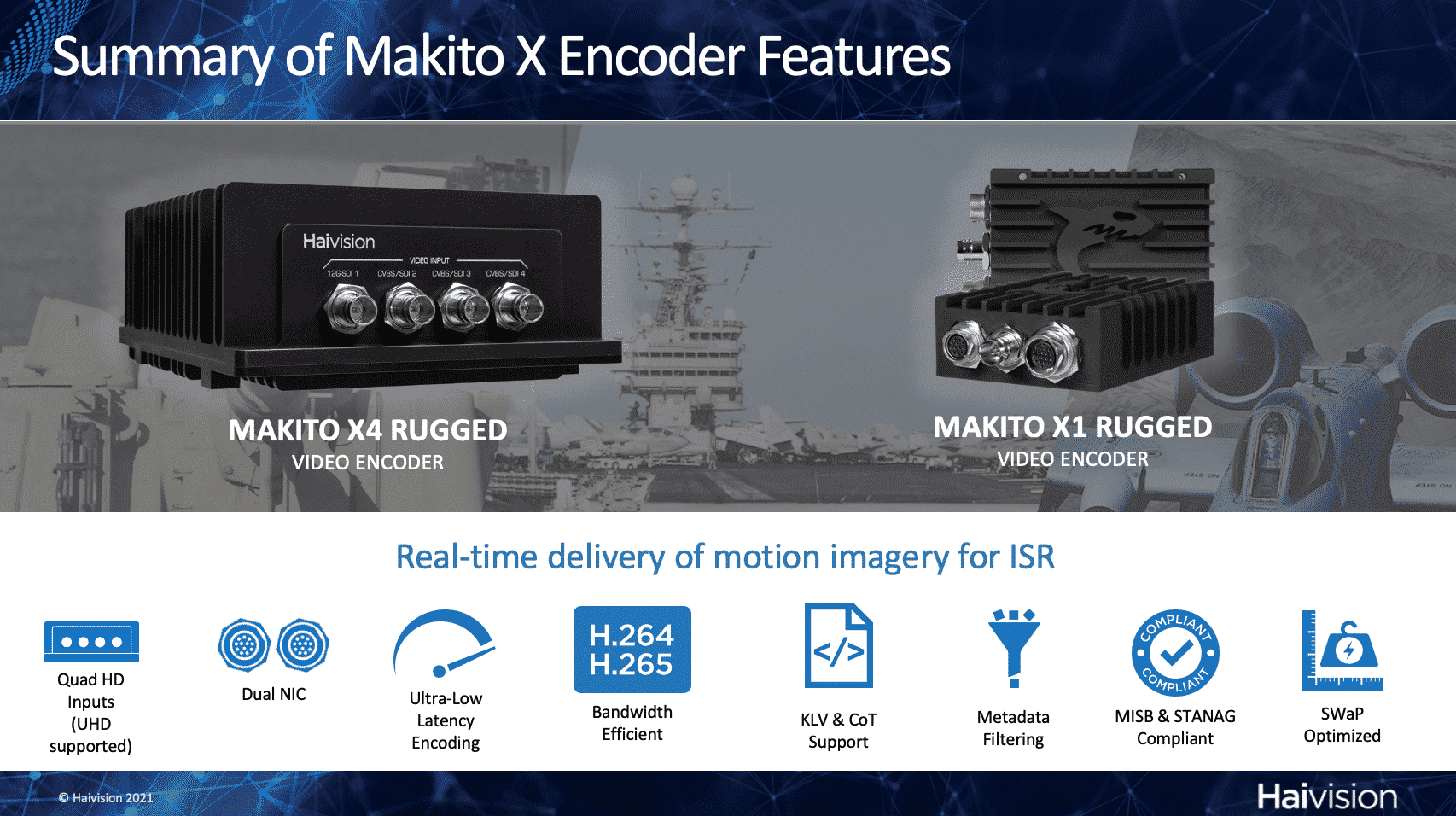 Transcoding and Stream Optimization for ISR Communications
Haivision's solution for ISR communication is the Kraken Series, offering live video transcoding, aggregation of multiple feeds for backhaul, and optimization of live full-motion video and metadata.
John Lawrence, Kraken Product Owner at Haivision shares details of the robust feature set that Kraken has to offer, from transcoding, stream aggregation, metadata filtering, to KLV & CoT support. He also highlights some of the new features available in the latest release, including the ability to encode 3G-SDI signals with an SDI-SFP adapter, a plug-and-play solution that eliminates the need for mechanical or engineering work.
Kraken as a virtual machine (VM) now supports NVIDIA GPUs for efficient transcoding. This is useful in cases where there are other virtualized appliances running on the same hardware and potentially competing for the CPU. Transcoding work can now be offloaded to the NVIDIA GPU, leaving the CPU free to handle work for other applications.
John gives a demo of how easy it is to set up streams for transcoding within Kraken, the variety of inputs and outputs supported, as well as how to apply KLV decimation and filtering settings. The demonstration also showcases resource optimization when the underlying transcoding mechanism is changed from CPU to NVIDIA GPU. Watch the webinar to watch the demo and discover more about the range of flexible deployment options now available for a range of different use cases.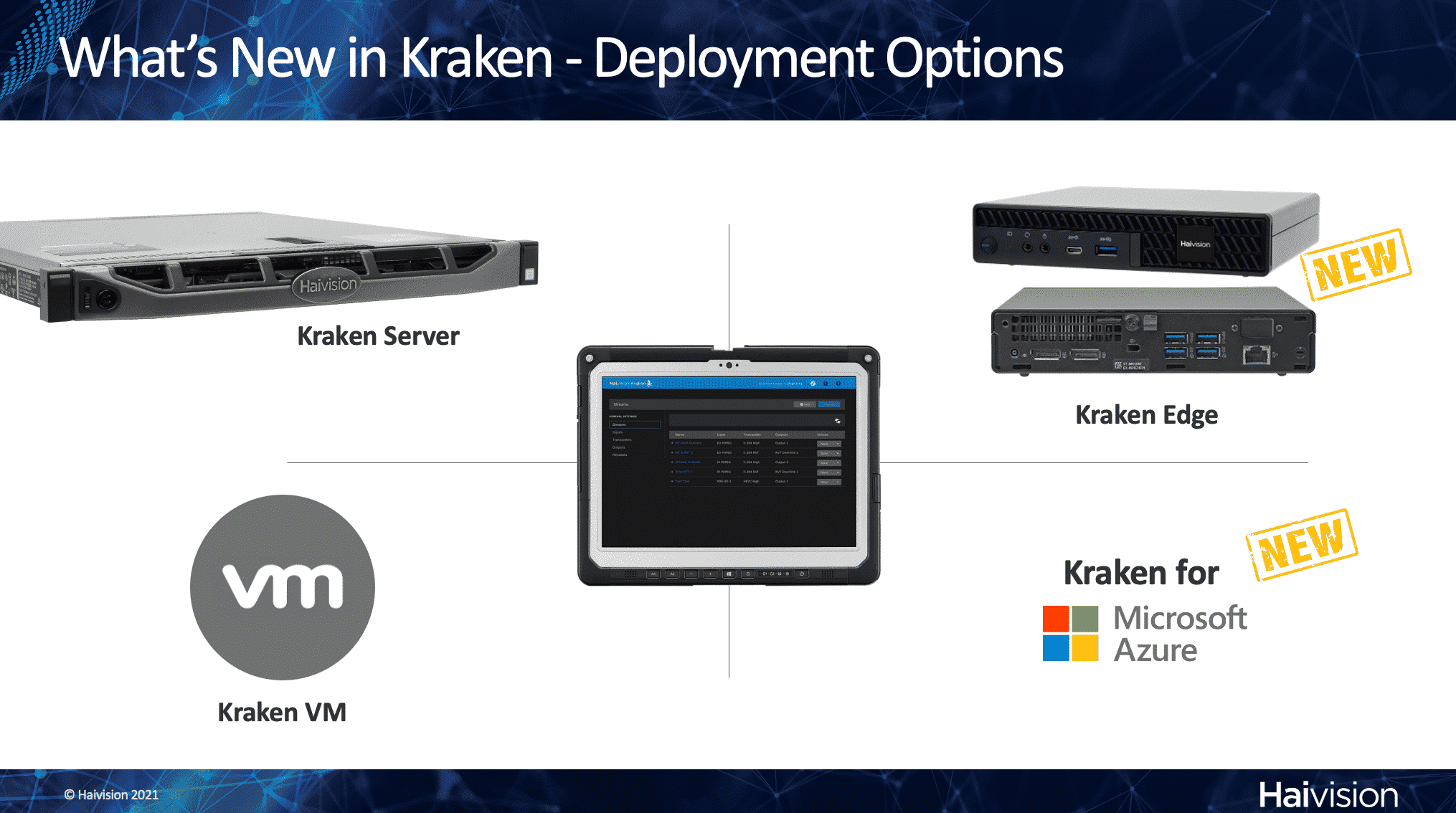 Record & Review in Real-Time for Situational Awareness
Haivision Media Platform, a multi-site low latency live video distribution platform for situational awareness. Designed for surveillance, tactical monitoring, command and control, as well as training and review, Haivision Media Platform provides low latency playout of mission-critical video and high-quality recording with live review for enhanced situational awareness and real-time intelligence and decision making.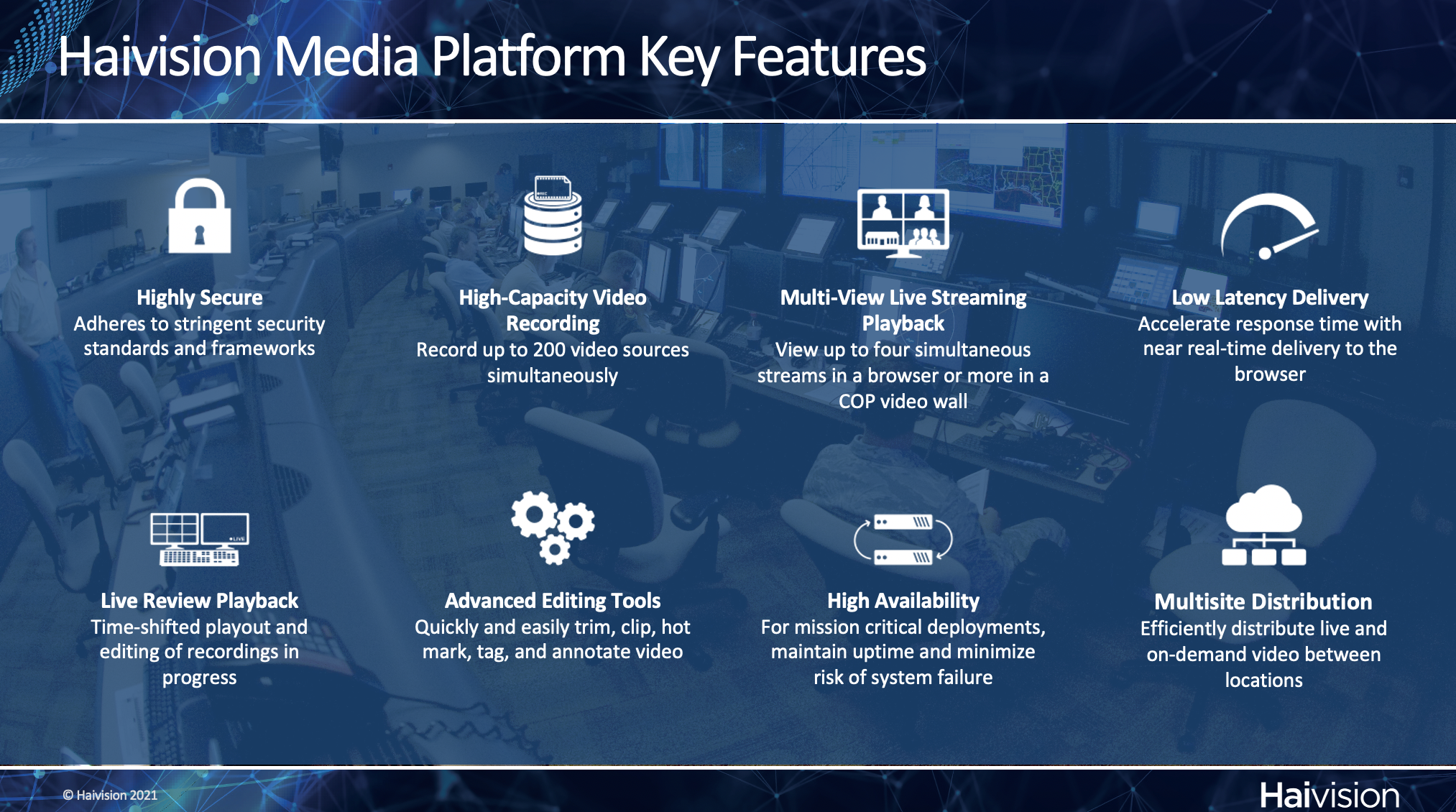 Watch the webinar for a demo of the live review capabilities of Haivision Media Platform and how they can be used to exploit the video. The demo explores the tools available to users from recording, annotations, clipping, to scrolling back and taking high-quality still images all, in real-time for after-action review.
Haivision Virtual ISR Summit
Watch the demos and learn about the latest Haivision video technologies for real-time mission-critical ISR applications