The Workflows that SAP, Twitter, BMW, and LinkedIn Depend on for Enterprise Video Remote Contribution
More and more businesses are adopting video as an integral part of their communications structure. The challenge for IT departments and those involved in the production and distribution of video is becoming increasingly complex. All hands webcasts can be difficult to do right, and they get even more complicated when you start adding remote contributors.
The good news is that there are many businesses out there that we can learn from. Each of them does it a little bit differently, but the end result is always a that helps businesses with more than one location to bring all of their people together with video.
We had the pleasure of working with Dan Swiney from LinkedIn on a webinar recently. Our presenters, Brock Roffey and Peter Maag from Haivision, discussed three unique workflows for remote production used by SAP, Twitter, and BMW.
Each of those businesses uses a different enterprise video platform to distribute their video feeds. The one thing that they all have in common is that they use high-efficiency, low-latency encoders to manage remote contribution.
Let's take a look at the challenges of remote production for businesses with multiple locations, and then look at the workflows that SAP, Twitter, and BMW are using to make the magic happen!
Psst! Ready to watch the webinar now? 
Click here
to watch Broadcasting All Hands Webcasts from Anywhere!
There are real challenges for remote video contribution in the enterprise
Remote contribution will always mean that there's a bit of a challenge ahead. You're trying to reach a large internal audience with video in your main office. You've also got viewers on the road, at home, and at your satellite offices.
One of the main challenges is that there is so much planning and set up to be done, that the investment in time and effort can be unwieldy if not managed correctly.
And there's more to consider. These include:
Low video quality — We're expecting a high-quality live feed. We're adults with jobs. Don't make us watch low-quality, shady live feeds.
High latency — Have you ever seen an interview on TV where the interviewee has to wait a few seconds to hear the question from the interviewer? It's not optimal, to say the least, and it can make your very important presentation seem unprofessional.
Bandwidth variability — This makes it difficult for people to watch the presentation without buffering or failure, especially when you're doing a bi-directional interactive presentation
Coordinating your staff members — Interestingly, one of the challenges of remote production is coordinating with remote event staff. But it can be done efficiently, as you'll see!
Security — When video leaves the safety of your firewall, it needs to be protected. This is always high on the list of any IT pro involved in streaming video to remote offices or viewers at home.
Unknown firewalls — It can be difficult to traverse firewalls you're not familiar with in remote venues like conference centers, and it can cause a lot of headaches for both event production staff and IT departments.
Those are the problems everyone faces. Now, let's look at how some businesses are solving these problems.
On-site production, sending video straight to the cloud (SAP)
I had a chance to interview Ryan Bentz from SAP a while back. What struck me was how Ryan is able to get so much done with video—and get it done effectively—while being remarkably frugal with time and effort.
Ryan is part of a production team that travels to a lot of different places throughout the course of the year, to make sure live streams from large company events make it out to the entire company.
From those locations, they send a high-quality adaptable bitrate cascade, which requires a tremendous amount of bandwidth—obviously a bit of a challenge in each case. In addition, they'll have to deal with locations where they will not have a known origin server.
Production of live streams is set up in advance, with an A/V team coming in to set up lights, cameras, and sound. All that Ryan has to do is plug in his encoder, find his way through the firewall, and send the adaptive bitrate stream to the cloud for distribution to remote viewers, the head office, and other remote offices.
It's a simple, and incredibly effective workflow that allows for everything to be managed right at the source of the feed. Check out the diagram below.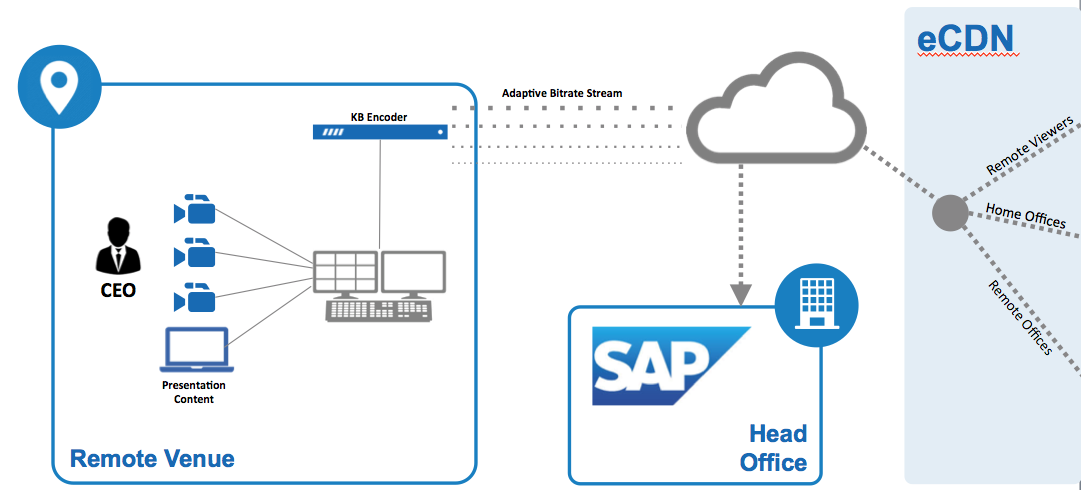 Ryan is fond of setting up his KB encoders and shipping them to remote locations he can't attend with the settings already entered. This gives the team the freedom to produce from many locations without having to worry about a lot of setup time and hassle.
On-site production, Backhaul to eCDN (Twitter)
At Twitter, they take a slightly different approach. Their video production takes place at the head office. As you can see in the diagram below, they receive feeds from remote venues at their head office location, then they send the adaptive bitrate stream out through an internet streaming encoder.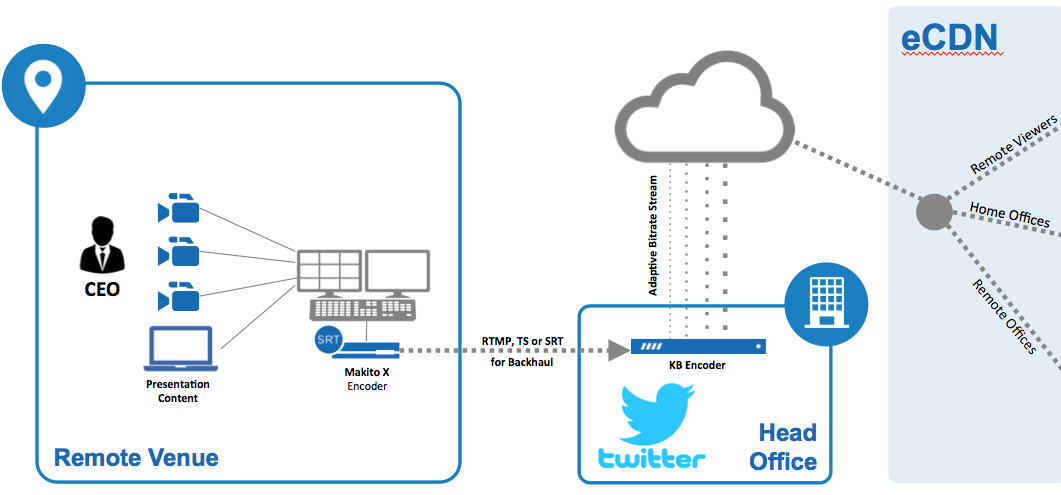 This allows them to have a known entry point to the CDN that they use to stream the video, which gives them the advantage of knowing what kind of bandwidth they have to stream out from that location at all times. It's a simple, and elegant solution.
Backhaul to HQ production site – interactive, distributed publicly (BMW)
BMW has several plants in Germany. Like other big companies, it's important to their entire operation to keep the lines of communication open, and to keep everyone apprised of new advancements and ongoing projects.
To do that, BMW delivers interactive live video presentations through their enterprise video system. 
The management of their live streams is done at the head office in Munich, where they receive low latency video feeds from presenters at their plants in Dingolfing, Regensburg, and Leipzig. They have high-performance encoders and decoders that allow them to get as many people from the organization as possible involved in live presentations.
All of their feeds are backhauled to a centralized production facility where those feeds are mixed down, with an output feed that is viewed by a live audience at the main office, as well as streamed out to remote viewers through a CDN.
What this allows them to do is to conduct a live interview in real time with their remote presenters, not unlike what you'd see on a news channel when pundits are weighing in on the issues of the day.
Here's the diagram that outlines their workflow in more detail.

Ready to see the complete picture?
Our friend Dan Swiney, the Manager of Live Production & Streaming at LinkedIn, joined us to discuss how LinkedIn handles events with remote contributors. They're broadcasting to an incredibly large group of people, and the challenges are significant.
But, they have a great team over at LinkedIn and they've put together a system that works really well for them. And now that they've got an established workflow they're able to produce live events with a minimal investment in time.
Make sure to watch the webinar, Broadcasting All Hands Webcasts from Anywhere, to get the complete picture and see how Dan and his team at LinkedIn are handling this challenge. You'll also get further details on these solutions, and more!
And if you have any questions, be sure to reach out to us and ask!