8 Video Streaming Trends to Look for in 2022
With another year of the pandemic behind us, 2021 was still not fully "back to business" for everyone, including those in broadcast. During these past two years, we've learned a lot about how we work and how we consume content as new trends have emerged during our time in this "new normal."
But how many of these new workflows or viewing habits will remain as the world opens up? Here are the top video streaming trends to watch out for in 2022 that may just be the "new normal" from now on.  
Haivision Broadcast IP Transformation Report 2022
Discover what over 650 broadcast and video streaming professionals think about the state of IP and cloud adoption.
Hybrid Workflows are Here to Stay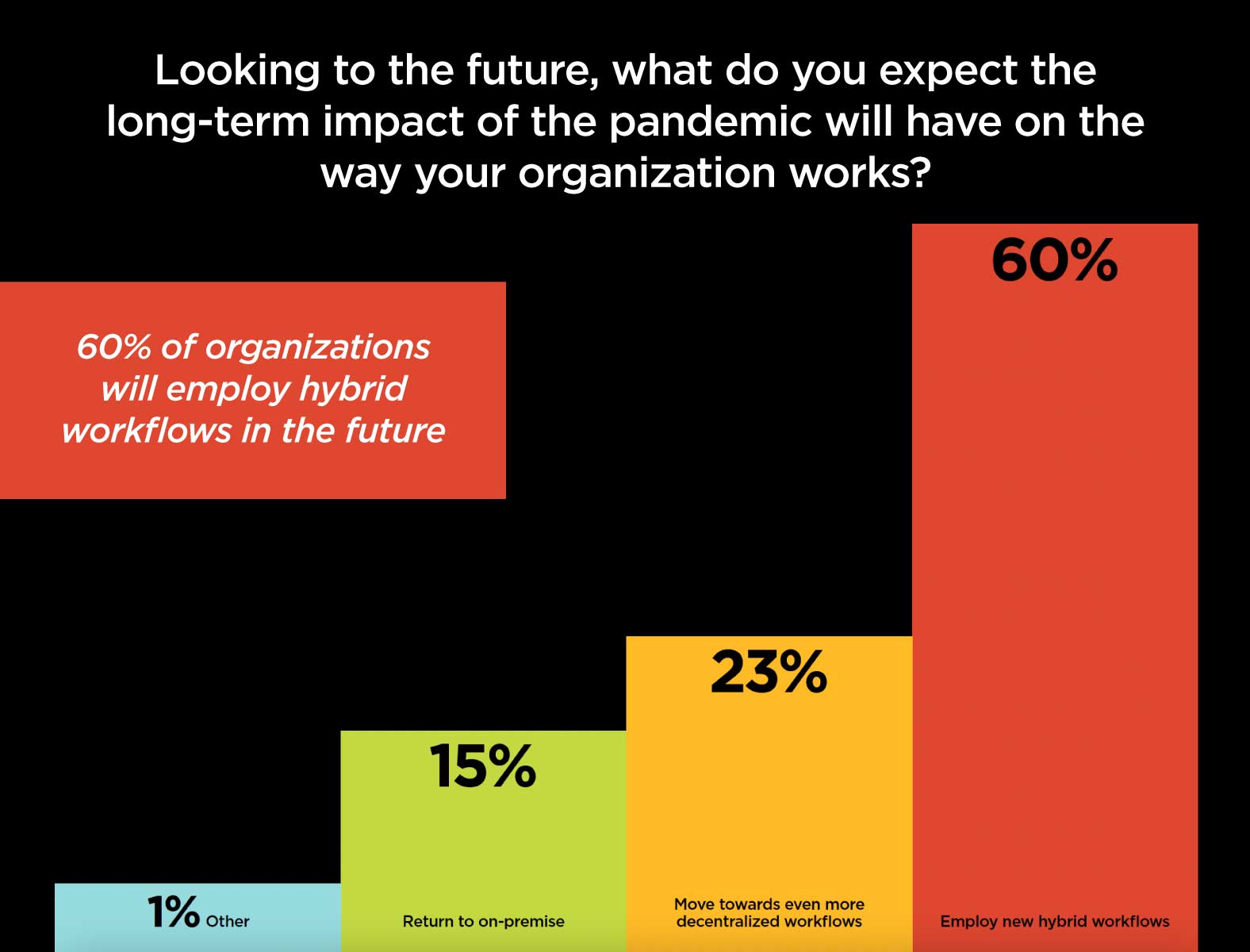 When the pandemic forced many industries and workforces to shut down, new ways of working have emerged. With lockdowns mandated around the world, many companies enabled their employees to work off site. Broadcasters were set up in their homes to create content and even as things started to open up, hybrid workflows were still being employed.
With new ways to work remotely like desktops like over the shoulder editing enabled by virtual desktops and other technology, we expect this trend to continue. In fact, Haivision's Broadcast IP Transformation Report 2022 reveals that only 15% of those surveyed believe there will be a full return to on-premise work, while 60% think that the future will involve some kind of hybrid workflows even if things go back to the way they were pre-pandemic.   
OTT Streaming Services Continue to Surge
Even before the pandemic, streaming services seemed to be on the rise in comparison to cable and satellite TV. But in 2021, streaming services dominated and with the pandemic forcing services like Disney+ and HBO Max to skip or shorten wide theater releases, subscriber numbers surged. Disney+ added 118.1 million subscribers and HBO Max added 73.8 million subscribers worldwide at the end of last year according to CNBC.
With the number of cord cutters and cord nevers now surpassing those using cable and satellite TV as revealed by TransUnion, streaming services are now the preferred way that viewers want to consume their content.  
Live Streaming Sports Takes Over
For many years, television networks have relied on big sporting events to draw huge numbers for their ratings. According to Sports Illustrated, 11.2 million people streamed the Big Game this year, which is more than double the year before, as streaming services like Amazon Prime have become big players in live sports. Big networks have also rolled in NFL games into their own OTT streaming services like NBC has done with Peacock, or Disney with ESPN+.  
The contract for the NFL's marquee package, NFL Sunday Ticket, with DirectTV ends with this upcoming season but with streaming services bidding in large amounts for seemingly everything, the package could land with an OTT service rather than the country's largest satellite-TV provider.  
The Internet is Relied on for Live Production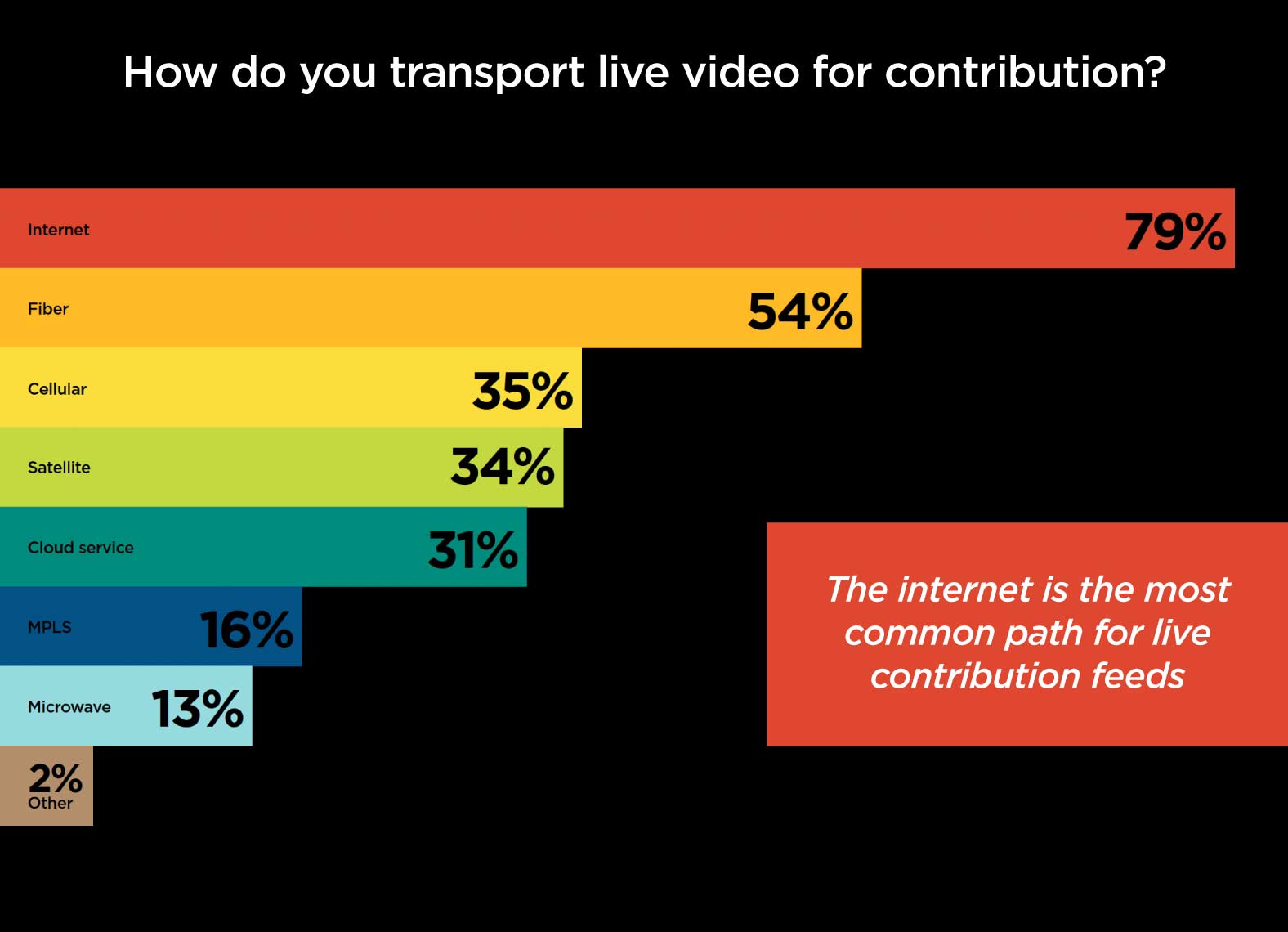 The public internet has become more and more relied upon when delivering video content for contribution and distribution. Long ago, security and latency were some of the main reasons to be hesitant about sending information over the internet, but streaming technologies such as SRT have helped to suppress those fears.  
According to Haivision's Broadcast IP Transformation Report 2022, 79% of broadcasters are using the internet for contributing video to live production workflows. SRT's 10% increase in adoption by those surveyed this year, from 53% in 2021 to 63% in 2022, has also helped fuel the use of the internet for decentralized remote production.  
5G Breaks Out
It's been said for a while now but 2022 looks to be 5G's big moment. 5G's numerous improvements over 4G, including expanded coverage, dependability and improved speed, are making industry leaders believe that 5G is about to become even more widespread according to Digital Trends.   
This year, 68% of broadcasters surveyed for the Haivision Broadcast IP Transformation Report 2022 said 5G is the technology that will have the most impact to the industry in the next five years. 5G Americas, an organization made up of telecommunication service providers and manufacturers, and Omida revealed that 438 million connections were achieved worldwide in Q3 last year and is expected to have 4.8 billion connections by 2026.
Live Contribution Through Mobile
As we've just mentioned, 5G looks to have its moment this year and it could have a big impact on remote contribution and collaboration in 2022. This year, mobile networks, which includes 5G and cellular bonding, overtook satellite for live contribution, as 35% of broadcasters surveyed in this year's Haivision Broadcast IP Transformation Report say they use it to transport video for contribution. With 5G continuing to grow and decentralized workforces rising, live contribution through mobile is trending upwards.  
Mobile Remains Preferred for Consumers
It's been an ongoing trend for many years now, so it should come as no surprise that mobile has remained the preferred method of streaming. According to Statista, global viewers spent an estimated 548.7 billion hours of live streaming apps in 2021, up from 482.5 billion in 2020, and this shows no signs of slowing down with new streaming apps and updated devices constantly releasing.  
Low Latency is More Important Than Ever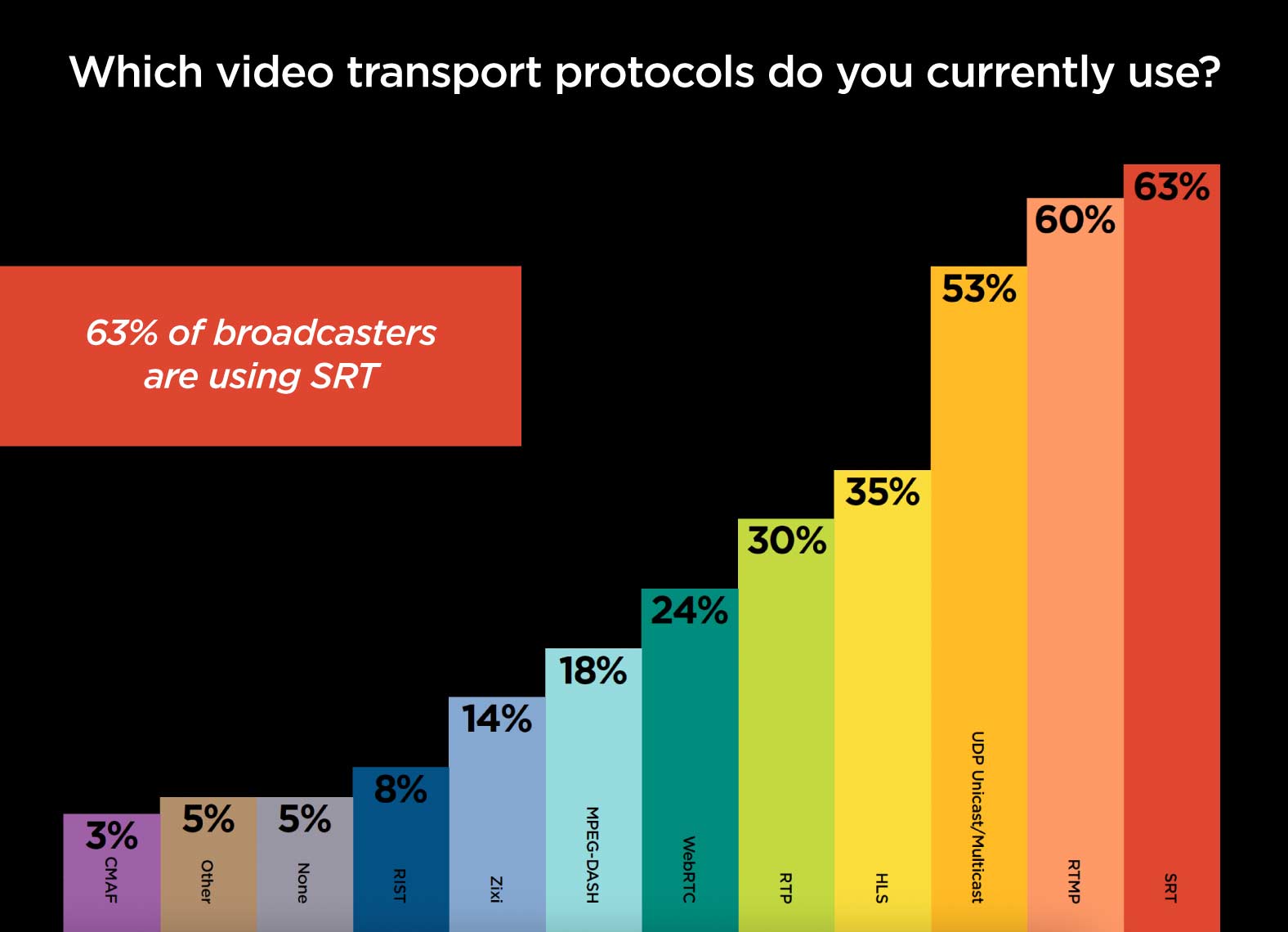 With hybrid workforces expected to be the norm in 2022, low latency will be even more crucial for fast video delivery. As the need for real-time video for use cases such as public safety workflows, business training and more continues to grow, reducing lag becomes even more important in the post-pandemic work world.
One of the most important things to consider when trying to keep latency at its lowest is the choice of streaming protocol. This year's Haivision IP Broadcast Transformation Report shows that SRT has become the most widely used transport protocol with 63% of respondents trusting its reliability, security, and its ultra-low latency, overtaking RTMP for the first time.
Want to see how Haivision solutions can help you?
Speak with one of our experts and book a free demo to see Haivision video streaming solutions in action.