New Ways of Working: Broadcast Contribution and Monitoring from Home
The COVID-19 pandemic is presenting a whole host of new challenges for broadcasters around the globe, especially when it comes to news coverage. The current situation requires creative thinking in order to enable new ways of working for broadcast professionals – from reporters, presenters, and analysts to broadcast engineers, executives, and social media teams – who are now working from home.
The Challenges: Quality, Latency, and Security
Broadcasters seeking effective ways of bringing in live video streams from journalists and presenters working at home might consider video conferencing platforms as an option. Although easy to set up, these platforms are not designed for broadcast TV, resulting in low on-air quality and ultimately a poor viewing experience. These issues are further exacerbated when the platforms and networks are operating at high capacity due to record surges in internet usage in the general population. And what about security when employees work virtually from home? How do you give authenticated users access to everything they need in your network?
Ready to Learn More?
Broadcasting from home doesn't have to be complicated. Learn first-hand from Haivision and Live X video experts how easy it is to get started in our upcoming webinar on April 28.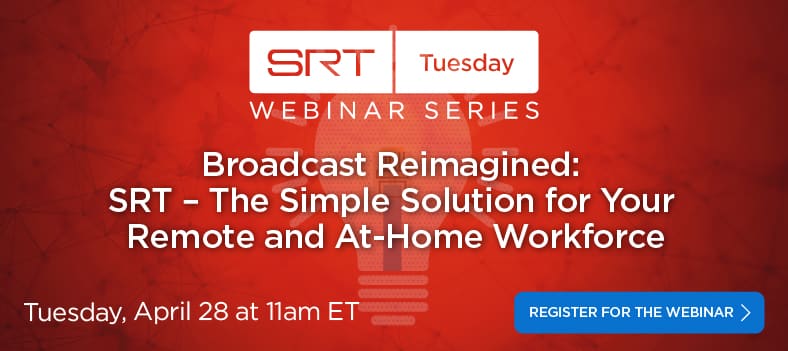 The Haivision Edge
Haivision technology is giving broadcasters the confidence to use the public internet for contribution and monitoring workflows from home without compromising on quality or security. Haivision solutions including the Makito X video encoder, Makito X video decoder, SRT Gateway, and Haivision Play Pro provide reliable performance over public internet connections offering high quality, robust video in an easy-to-use, secure, and encrypted package. High-quality broadcasting from home is as easy as plugging your encoder into the internet.

Haivision's low latency HD video streaming makes it possible for reporters and analysts to easily participate in live interviews over any network to provide critical news updates even when working from home offices.
Low Latency Video Encoding
Haivision video encoders such as the Makito X4 video encoder can deliver the ultra-low latency (sub 200 milliseconds) needed for live and interactive interviews from home to facility. Also capable of high-quality 4K/HD, HEVC/H.264 encoding at low bitrates, the Makito X4 video encoder includes SRT support to securely transport video over any network, along with Network Adaptive Encoding, which mitigates the risk of a stream failing, even when faced with significant network bandwidth fluctuations.
Secure Real-Time Stream Routing
To aggregate and route SRT streams, Haivision SRT Gateway provides live video routing and protocol conversion in real-time with easy firewall traversal as well as network bridging to adapt video streams for different networks such as LAN, WAN and the internet. With native support for SRT, it can also encrypt valuable content allowing secure routing of video streams. Available as a turnkey appliance or virtual machine, Haivision's SRT Gateway can also replicate streams to enable monitoring of production of on-air feeds.
Free Tool for Remote Monitoring
Remote employees and stakeholders can watch production and on-air feeds from anywhere using Haivision's free application, Play Pro. Available through both the App Store and Google Play, Haivision Play Pro lets you watch replicated SRT streams from anywhere and is perfect for providing on-air talent with low latency visual cues and access to other important production feeds such as up-to-the-minute teleprompters.