New Insights into the State of IP and Cloud Adoption in the Broadcast Industry
We're excited to share the results of our survey on the state of IP and cloud adoption within the broadcast industry. You can download your free copy of the Haivision Broadcast IP Transformation Report 2020 right now!
For this report we polled broadcast professionals representing a range of organizations from national television networks to OTT service providers, cable operators, broadcast services, and live production studios. Our survey sample was comprised of Haivision customers and prospects representing 41 countries around the globe and was conducted with the aim of gaining a better insight into how far along broadcasters are into their IP and cloud transformation journeys.
We wanted to get a deeper understanding of the specific challenges that broadcast engineers and content producers are facing and what their future technology plans are. We asked participants to share their experiences and opinions on a whole host of topics, from codecs and digital audio formats to hardware and video transport.
And the results were very enlightening!
Migration to IP and Cloud
Many broadcasters are grappling with ongoing changes to their organizations driven by emerging technologies and evolving business models. Our report provides interesting datapoints and insights into how broadcasters and video service providers are migrating their workflows to incorporate new technologies including 4K and HEVC, IP, and cloud-based services.
For the first and last mile of the video production chain, IP technology is clearly already playing a significant role. However, the survey reveals that although most broadcasters are in the process of transforming their workflows with IP technology, there's a still a long way to go. In fact, when asked what IP technologies they currently use in within their production facilities, almost 40% of respondents replied that they are not using any.
Q. What IP technologies do you currently use within your production facilities? *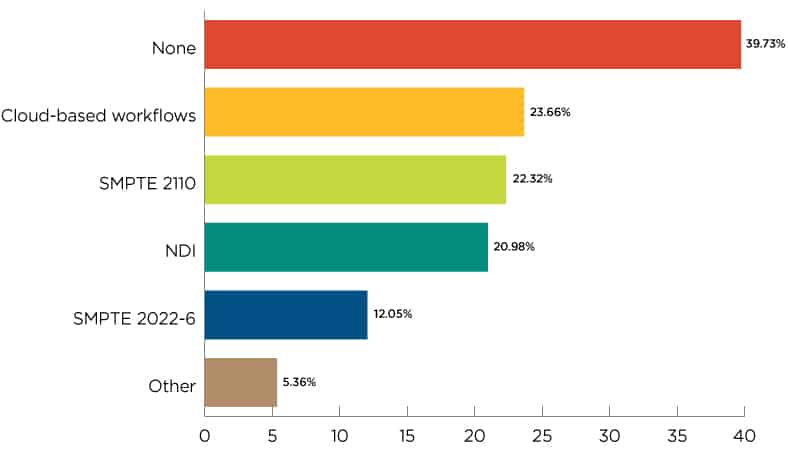 * This survey question was multiple choice, multiple answer, and therefore results do not add up to 100%.
So, what's holding them back?
The findings highlight that as they are driven by changing viewer habits, the demand for more live video content, and the desire to be less reliable on costly and increasingly scarce satellite spectrum, broadcast engineers are being pushed to deploy IP technology while contending with technical complexities and budgetary restraints.
Other key highlights from the survey include:
Broadcasters are still very much reliant on hardware as edge devices to support their IP and cloud-based workflows – 88% of respondents confirmed that they are using hardware video encoders.
From contribution to delivery, HEVC is playing an increasingly important role in broadcast workflows, with more than 75% of respondents anticipating that they will be using it in their workflows a year from now.
More than 75% of the broadcast professionals we surveyed confirmed that their organization has already begun transitioning to the cloud or are at least planning to start migration within the next two years.
5G tops the list of new technologies that broadcasters believe will have the biggest impact on the industry within the next five years.