Microsoft Media and Entertainment Summit: Haivision Hub in 10 Minutes
Editor's note: Haivision Hub was known as SRT Hub when this presentation was shown at Microsoft's Media and Entertainment Summit; the presentation reflects the name at the time.
Broadcast has been changing around the world for the past few months. Remote production has soared in popularity while an already ongoing shift to the cloud has been accelerated. These changes have been an opportunity to dive into new technologies, but that can sometimes feel overwhelming.
This is why our friends at Microsoft hosted the Media and Entertainment Summit, an event dedicated to exploring these new technologies and helping broadcasters better plan their strategies for now and the future. Microsoft also graciously made the presentations, featuring Microsoft's own experts and partners, available on-demand, online.
In this post, we will focus on a brief presentation dedicated to Haivision Hub*, its features and benefits, and a demonstration of how Hublets work in real broadcast workflows. Click the image below to watch the ten-minute presentation through Microsoft's Media and Entertainment Summit, or continue reading for a primer on how Haivision Hub is changing media routing.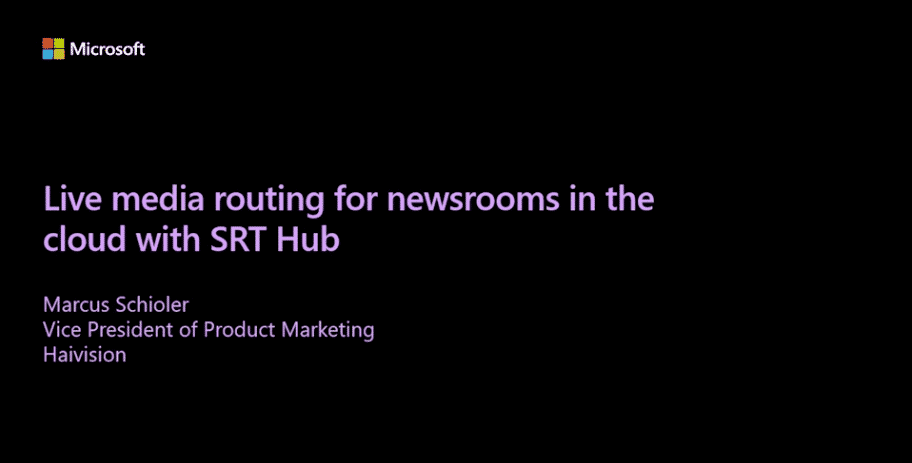 Challenges Addressed by Haivision Hub
Haivision Hub addresses a number of challenges in video streaming, notably:
Video reliability: By using the SRT Video streaming protocol, Haivision Hub ensures that your video is low latency, high quality, and reliable. Input and output adapters (known as Hublets) in Haivision Hub support your existing workflows, while allowing you to take advantage of the open source SRT streaming protocol, which was designed to deliver broadcast-quality video even over the worst networks.
Scalability: Haivision Hub leverages the global reach of the Azure network. This ensures high performance video routing and transport, no matter where you are sending your video from, or to.
Video routing: as explained in one of our earlier posts, Haivision Hub uses artificial intelligence to route your streams in the most intelligent and efficient manner possible, building secure routes through the cloud – this both saves time and ensuring the security of your video streams.
Complexity: Haivision Hub was designed to make cloud media routing accessible and straightforward – especially the user experience. The user interface includes the ability to build your workflows via "drag and drop," with Haivision Hub's AI ensuring error-free route creation.
Key Uses for Haivision Hub
Haivision Hub can be used for a variety of contribution and distribution needs, but it is especially valuable for field contribution and syndication purposes. News can happen anywhere in the world and isn't always scheduled – Haivision Hub can help simplify bringing the footage from the field to your production room. On the other end of the broadcast workflow, Haivision Hub is also excellent for routing syndicated footage, as live playout can then be routed to distribution partners and CDN's as needed.
Building Your Own Streaming Route in the Cloud
To learn more about Haivision Hub and how it works, including a demonstration of how to build a video streaming route, watch the presentation, Live media routing for newsrooms in the cloud with SRT Hub*, presented by Haivision Vice President of Product Marketing Marcus Schioler, as part of Microsoft's Media and Entertainment Summit.
You can also learn more about how Haivision Hub can help your streaming workflows by exploring this page.
Live media routing for newsrooms in the cloud with SRT Hub
Providing coverage of live news events events requires transporting live video to broadcast resources in the cloud in order to get content to air in a timely fashion.