The Makito X HEVC Video Encoder is Here!
We're excited to launch the Makito X HEVC video encoder – our newest video streaming product. The Makito X HEVC builds on our legendary H.264 encoder by adding HEVC compression, allowing for even more bandwidth savings in your video workflows.
HEVC (also known as H.265) is the next-gen compression standard, supplementing H.264 (AVC) compression by delivering similar picture quality with up to a 50% reduction in bandwidth. Briefly, video compression works by comparing frames and removing duplicate information. HEVC improves on H.264 with better prediction, compression and merging of frames and scenes. HEVC requires significantly more processing power to achieve its dramatic results, which is why it requires new appliances and hardware. We've found this amazing and short video on YouTube which explains the difference in more detail.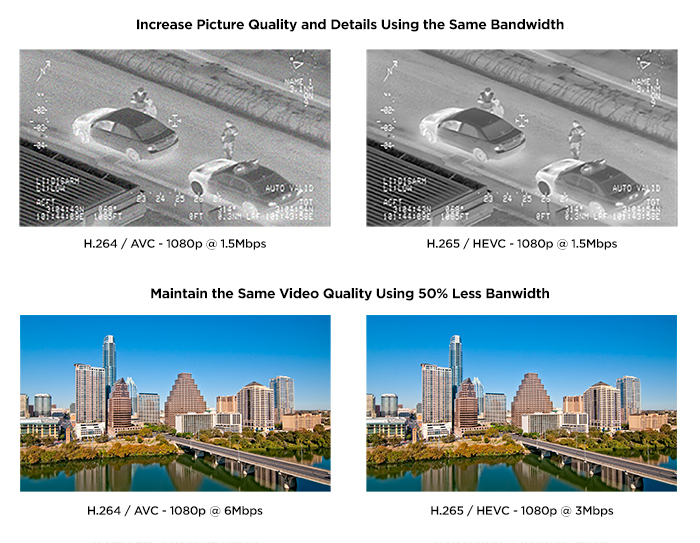 We designed the Makito X HEVC for live video streams, backhaul and ISR applications over constrained networks. The Makito X HEVC is unique in the market. We've added an HEVC engine while keeping all four of our H.264 encoding engines intact. This means you can keep your existing H.264 workflows plus add an additional HEVC stream. H.264 is still the gold standard in video workflows, meaning any encoders you want to add to your workflows will still need to support it for some time to come.
The Makito X HEVC is built with SRT, our encrypted, packet recovery video streaming technology. With SRT your video streams are secured, and you're able to use public internet for your video workflows. The combination of HEVC and SRT allows for a reduction in OPEX – you can use HEVC to reduce the costs of private connections (MPLS, satellite) by conserving bandwidth and reducing the size of the connection needed. Thanks to SRT, you also have the option to use the public internet and stream your content at even lower costs.
The Makito X HEVC is also compatible with a variety of HEVC decoders on the market, the Haivison Media Gateway, transcoders and a host of set-top boxes and players. As HEVC continues to be adopted, we are expecting to be compatible with more decoders, and players, and we'll be sure to update our blog post as those changes are made.
Check out the full press release, visit our product page, or download our datasheet. When you're ready to learn more about the Makito X HEVC video encoder, send us an email and we'll be in touch.