How SRT Hub is Addressing Broadcasters' Biggest Media Routing Pain Points
Editor's note: Haivision Hub was known as SRT Hub during IBC 2019. This panel reflects the name at the time.
Today, broadcast media routing presents a range of complex and often seemingly never-ending challenges. Covering events over unpredictable networks, getting live content to the cloud, maintaining infrastructure, and integrating production tools are just some of the issues stretching broadcasters to their limits.
These pain points were the subject of a recent panel discussion at IBC2019: Broadcast Production in the Cloud with SRT Hub & Microsoft Azure.  During the panel, hosted by Haivision and Microsoft, members of the SRT Hub ecosystem, Avid, Telestream, and Wowza discuss SRT Hub, their uses cases, and how it can help broadcasters capture and process media faster and more cost-effectively.
SRT Hub 101
Haivision CTO and EVP of Product Management, Mahmoud J. Al-Daccak kicks off the panel with a brief overview of some of the biggest pain points that broadcasters currently face, particularly when it comes to contribution, and outlines how SRT Hub was designed to solve them. At its core, SRT Hub is an intelligent cloud media routing solution that harnesses the capabilities of the Secure Reliable Transport (SRT) protocol along with the global reach and scale of Microsoft Azure. Built specifically for broadcasters, it works for both live and file-based workflows and enables rapid, reliable, and easy media routing from anywhere to anywhere.
The premise is very simple. Using an intuitive, simple, node-based interface, setting up an SRT Hub route can be done quickly and easily with just a few clicks of a mouse. SRT Hub takes care of the complexity of spinning-up regional cloud resources and determining the best path through the internet, allowing you to focus on your media and how you want to get it from A to B.

Setting up an SRT Hub route
What Makes SRT Hub So Special?
In addition to solving a whole host of media routing challenges, Mahmoud highlights what he believes is the key differentiator which makes SRT Hub such a compelling solution: its open partner ecosystem. While Haivision is 100% focused on the routing and edge device control capabilities of SRT Hub, it recognizes that broadcast engineers want to continue using their existing workflows. By collaborating with best-in-class partners to form the SRT Hub partner ecosystem, SRT Hub enables multiple broadcast components to be connected within a unified cloud workflow using input, processing, and output Hublets.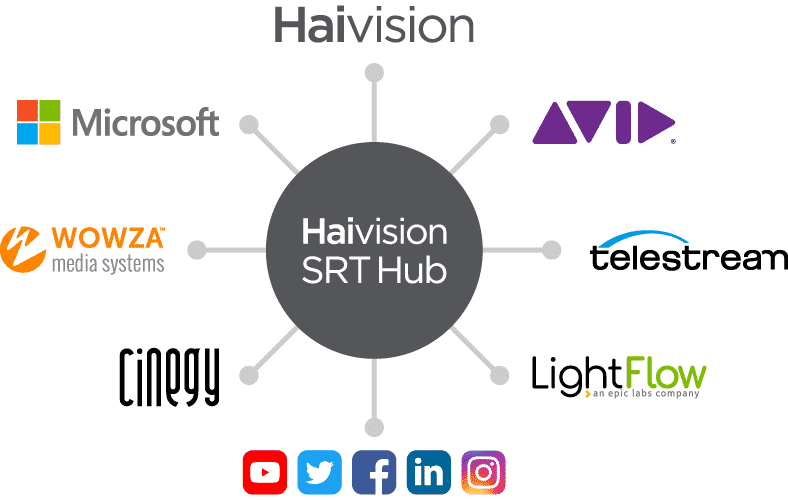 SRT Hub Ecosystem
You can read more about Hublets and what they are here.
It goes without saying that Haivision and Microsoft are incredibly excited about the possibilities that SRT Hub has to offer, but what do current SRT Hub ecosystem partners have to say?
Collaborative Cloud Workflows
Faced with rocketing customer demand for high quality IP contribution for news, sports, and live entertainment, Ray Thompson, Avid's Director of Product Marketing, shares how Avid collaborated with Haivision to develop a solution using SRT to address the challenge for more content. At IBC, Avid showcased its software-only video ingest tool, FastServe, which runs on a VM and also in the cloud, enabling IP contribution into Avid production environments using both the SRT protocol and SRT Hub. This means that Avid users can now ingest streams from any SRT enabled device for the purposes of contribution for news, sports, and live entertainment.
"IP used to be a 'nice to have' but now it's an absolutely critical part of any workflow. It gives you a broader reach, it's much more economical and at the same time, you're benefiting significantly by being able to do it faster."
De-risking the Move to the Cloud
Stuart Newton, VP Strategy/Corporate Development at Telestream walks viewers through two use cases, file-based processing in the cloud along with a live workflow for channel as a service monitoring. He takes a deep dive into how two of Telestream's flagship video solutions, Vantage and OptiQ, work with SRT Hub to provide a whole new way of delivering video, creating flexibility and resilience in the cloud with just a click of button.
"It's one of the most exciting things I've worked on for a long time in this industry, huge, huge, huge potential."
Powerful and Enabling
Wowza Co-founder and CTO, Charlie Good, keeps his thoughts on SRT Hub short and sweet. He describes how SRT has become an important piece of the company's technology stack, in particular, Wowza Streaming Cloud, as it provides an alternative to RTMP which allows Wowza to participate in IP-based and HEVC workflows. Looking to the future, Charlie believes that SRT Hub will be useful for live event production.
"For those pop-up events where you want to have a robust stream in the cloud, this is a simple, easy, fast way to do that… It provides a much more robust, low latency, high throughput pipe that can get into our streaming products."
Higher Quality, Lower Costs
Rounding out the panel, Joseph Maar, CEO of NECF, shares how the company is successfully leveraging SRT Hub to coordinate global production experts and resources from everywhere, to everyone with higher quality and lower costs. Joseph also walks viewers through a very recent use case of a live, distributed production of a golf tournament using SRT Hub which allowed for far more content at a higher quality and lower cost.
"We're using it to coordinate global production experts and resources in a market type environment so that any vendor, anywhere can get their equipment virtually online, their crew virtually online, their telco in a virtual environment, to be able to produce for somebody in a different part of the world."
Interested in learning more about SRT Hub and what these expert panelists have to say about it? Watch the full recording of the panel.
Keep Reading:
What's a Hublet and What Does it Do?
SRT Hub and Microsoft Azure: What is Cloud Media Routing and What Does it Do?
SRT Hub Partner Ecosystem