Out of the Park and Onto the Screen: How Fox Sports is Pioneering Remote Production for MLB
This year, more than ever, sports leagues have had to develop strict protocols to allow their staff and athletes to stay safe while participating in the sports that they love. Broadcasters who want to bring the thrill of competition from the field to the screen not only have to abide by these new protocols, but also develop their own precautions to protect their production teams.
Fox Sports was one of the first North American broadcasters to bring live sports back to air, starting with the return of NASCAR in May, and then expanding their coverage as other major leagues, like the MLB returned to play. By leveraging Haivision's video streaming technology for remote production, Fox Sports didn't have to compromise on either safety of quality.
Recently, we were joined by Brad Cheney, VP Field Operations and Engineering from Fox Sports for a "Behind the Streams" look at the workflows they used to bring live sports back to air while keeping most of their production staff at home. We explored how they leveraged their experience with Haivision's video encoding and streaming technology to expand their workflows with a distributed Production Anywhere model.
Behind the Streams: Live with Fox Sports
Learn how Fox Sports is using decentralized production for MLB and NASCAR coverage.
Revving Up with Remote Production
The success of the remote production and remote operation workflows used for NASCAR's return to broadcast television gave the team at Fox Sports a foundation upon which to plan their next challenge – the return of MLB.
And because the Fox Sports team loves a challenge, their first baseball broadcast in the MLB's return to play was going to be a triple header, with games in Boston, Chicago, and San Francisco – the first baseball triple-header that Fox Sports had ever done.
Their remote and distributed production setup was similar to the one that they had used for NASCAR. The show production was centralized in their Los Angeles broadcast center. Homerun Production kits (full mobile studios extensions for each ballpark,) were sent out, with the streams sent back to LA over a private EPL circuit.
Bringing the MLB Out of the Park
The setup for the game all set and ready to go when Fox Sports was thrown a curveball – they would not be able to have their commentators nor analysts at the stadium during the live game. Furthermore, these announcers could not perform their jobs from the Fox Sports studio in LA; there was a maximum amount of people they could have in the studio at one time.
The team at Fox Sports was going to need to make some last-minute changes, and they were ready to step up to the plate with Haivision encoders in hand.
The solution they found was to bring the video footage from the matches directly to these broadcast professionals no matter where they were located. However, each game featured both an analyst and a play-by-play commentator. This meant that Fox Sports would need additional video feeds from the field, and with low enough latency so that they could provide their commentary with the same timing as they would from the ballpark.
"We knew Haivision was really the only way we were going to move that much video into a lot of different locations."
– Brad Cheney, VP Field Operations and Engineering, Fox Sports
In this new workflow, the entire show production would be run from the LA broadcast studio, including replay and graphics operators. Three main video streams were sent from the ballpark to the LA studio: two SRT and one HEVC 20 Mbps by TS.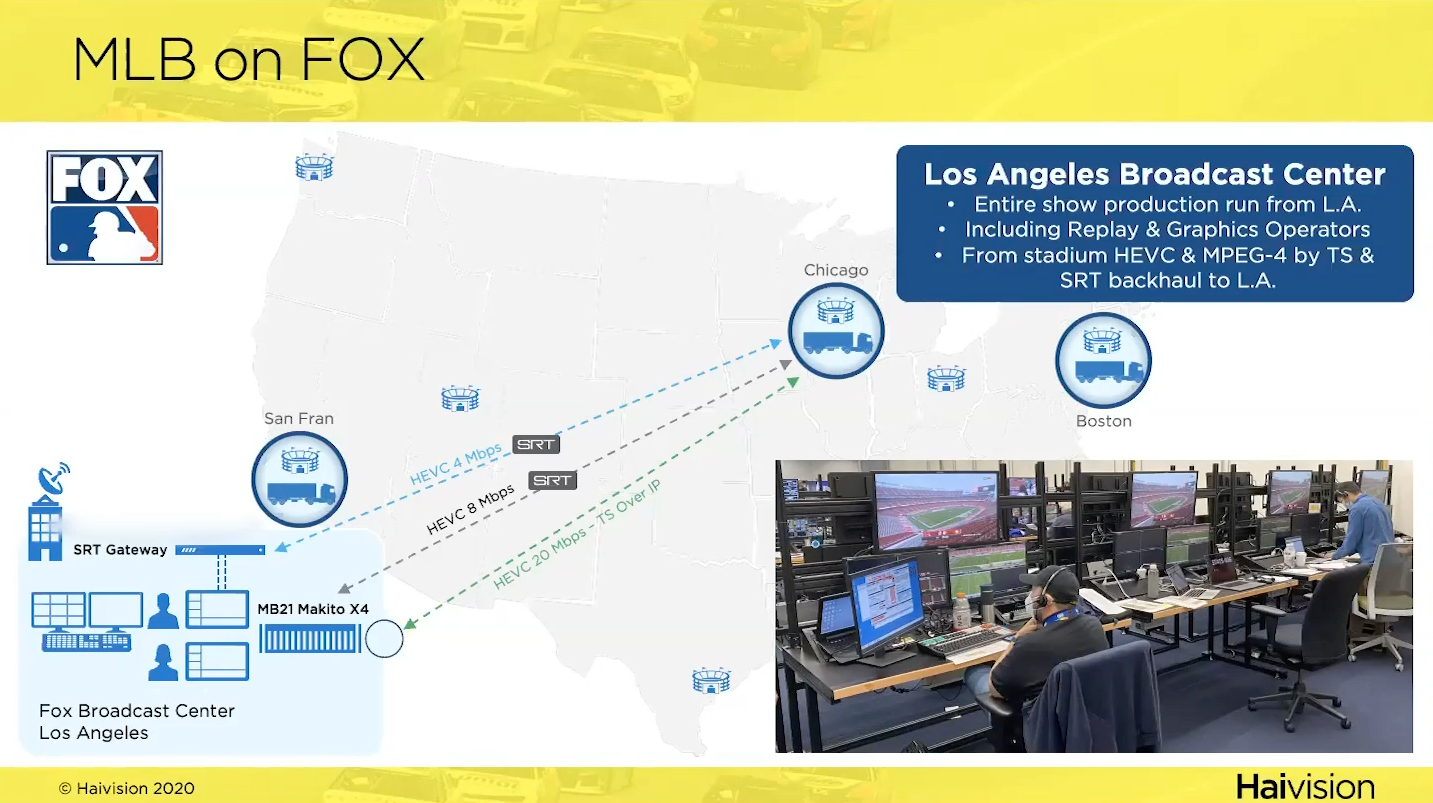 But that was only the first step. Subsequently, the feeds were sent from the LA broadcast studio, via SRT Gateway, over SRT, to Makito X4 video decoders, where the play-by-play commentators and analysts could view the game feeds and provide commentary from their own small studios in different cities across the country.

A Home Run for Production Anywhere
To say that Fox Sports remote production and distributed workflows has been a success would be a bit of an understatement. Since that first triple-header, Fox Sports has broadcast roughly 30 Major League Baseball games, and of those games, maybe four of them had their play-by-play commentators and analysts in the same room – not that the viewers would know from the broadcast.
With less than half a second of latency from the ballpark to the screen, both commentators were receiving the video footage in real time; this meant that they were able to comment in real time, and not worry about the delay between the analyst and color commentator. This has ensured that the commentary on the game has flowed at a natural pace, familiar to sports fans.
"Even on day one, you wouldn't have known that they weren't calling the game, in the stadium, at the ballpark, the same way they were before."
– Brad Cheney, VP Field Operations and Engineering, Fox Sports
The workflows used by Fox Sports to bring sports back to television have been a progression, starting with the Production Anywhere model used for NASCAR, and progressing with the addition of remote commentary for the MLB coverage. This innovative approach, made possible with Haivision's high-quality, low latency video streaming technology, continues with their NFL broadcasts, with statisticians and analysts working from home and contributing in real-time.
Fox Sports' Production Anywhere model is the next level of remote production as it enables distributed teams to collaborate effectively in real-time on live sports broadcasts. This means that even with safety guidelines and travel restrictions, Fox Sports is able to leverage the very best talent, at all times. As a result, they are able to continue to generate high quality content for their viewers while ensuring the safety of their staff.
Want to learn more about how Fox Sports has been evolving their remote workflows to meet the challenges of broadcasting live sports in the era of COVID-19 restrictions? Watch the Behind the Streams webinar with Fox Sports' own Brad Cheney, as we dive into the workflows they're using for NASCAR, the MLB, and the NFL.