Broadcasters! Tell us What You Think in Our Broadcast Survey
We're excited to launch the start of our third annual Broadcast IP Transformation survey!  
For all of you working in the broadcast, media, and entertainment industry, we'd love to know your thoughts on the technologies driving IP and cloud adoption in the 2022 Broadcast IP Transformation survey. Please give us less than 10 minutes of your time to answer a few short multiple choice questions about the challenges you face, the technologies you are using, and your views on the future technologies set to transform the industry.
Complete the survey and you'll get exclusive early access to the results in 2022 as well as the chance to win an iPhone 13 Pro!
Here are the key highlights from last year's survey: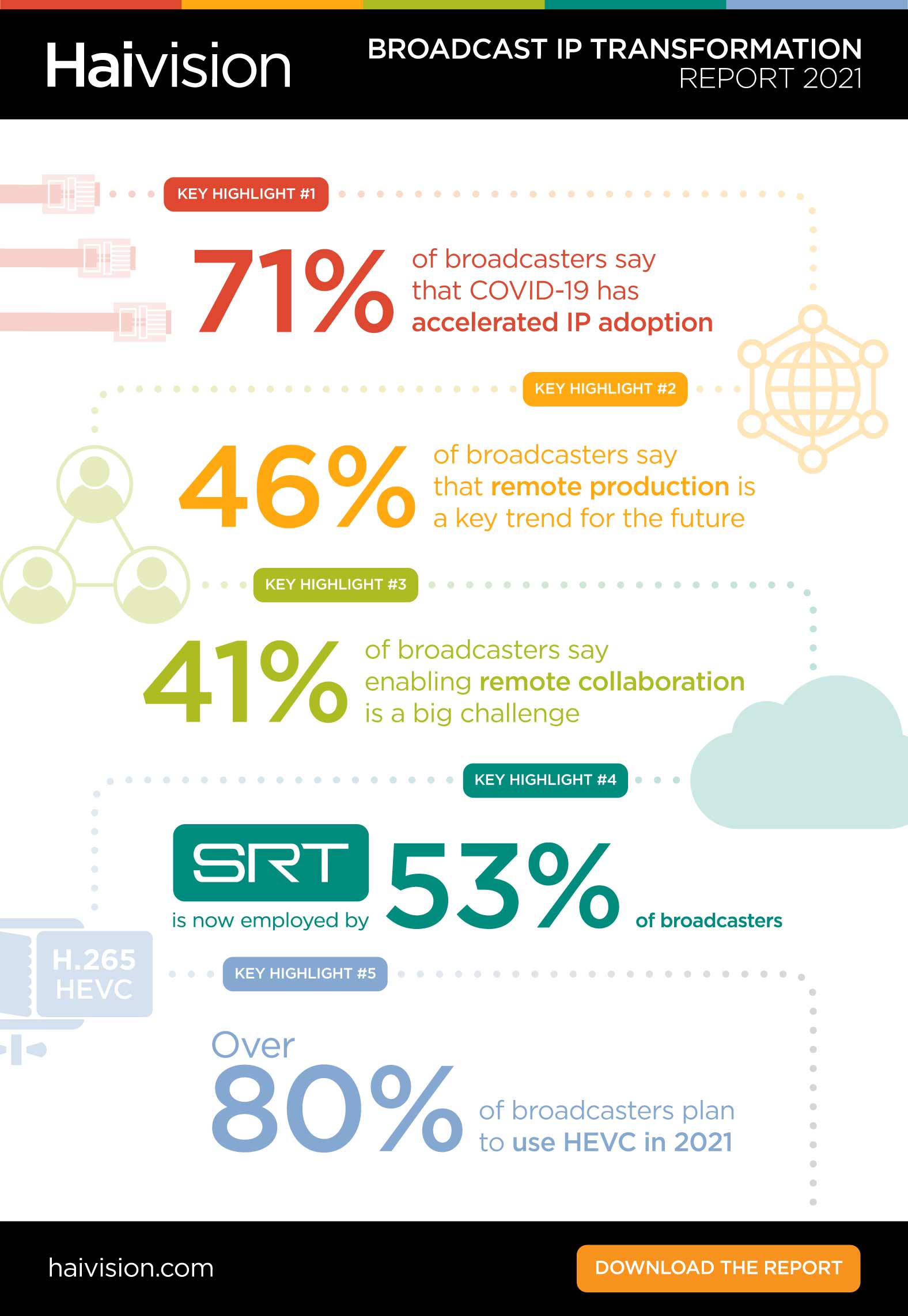 COVID-19 has accelerated IP adoption: 

The pandemic has significantly impacted how broadcasters are operating. While the transition towards IP was already in progress, 71% of those polled stated that COVID-19 has accelerated the adoption process within their organization.

 
Remote production is on the rise: 

When covering live events, broadcasters are increasingly turning to remote production. 39% of those surveyed are employing remote production or REMI workflows. Almost half of those surveyed (46%) also indicated that REMI/At-Home technology is one of the most important trends for their organization in the future.

 
Enabling remote collaboration is a key challenge: 

When asked about their biggest challenges, the responses from our survey of broadcast professionals were clear; 42% cited transitioning to IP, closely followed by enabling remote collaboration at 41%.

 
SRT is widely deployed:

 SRT, the Secure Reliable Transport open-source protocol, originally designed by Haivision to optimize streaming performance across unpredictable networks like the internet, is now being employed by 53% of broadcasters.

 
HEVC adoption is fueled by 4K over IP and cloud: 

With over 50% of respondents already using HEVC and over 80% planning to this year, HEVC is clearly becoming the most important codec for the future of broadcast video. This is largely due to the growing importance of 4K UHD video contribution over IP and the cloud.

 
Want to learn more?
You can read last year's survey here, or read more about our take on the findings in our broadcast report blog series.