Broadcast IP Transformation Report: HEVC Adoption Fueled by 4K Over IP and Cloud
Haivision's Broadcast IP Transformation Report 2021 took a deep dive into the current state of the broadcast industry by surveying over 500 broadcast and video streaming professionals. Unsurprisingly, the COVID-19 outbreak became the focus of IP transformation efforts and had a significant impact on the results.
As broadcasters were mostly unable to be on-site for productions and had to accommodate staff working from home, the move to remote collaboration and decentralized workflows posed many new challenges for the broadcast industry. This shift forced broadcasters to adapt and be agile when adopting new technologies and techniques for producing and delivering content.
The demand for 4K UHD content was already on the rise before the pandemic. In order to meet the growing importance of 4K video contribution over IP and to cloud-based workflows, broadcasters looked to optimizing picture quality and bandwidth consumption, which fueled an increased use of the HEVC codec.
As our Broadcast IP Transformation Report 2021 shows, the move to decentralized workflows has helped with the growth in adoption of HEVC, but is this just another pandemic trend or are the "codec wars" truly over as we predicted they would be in last year's report?
4K UHD Content is on the Rise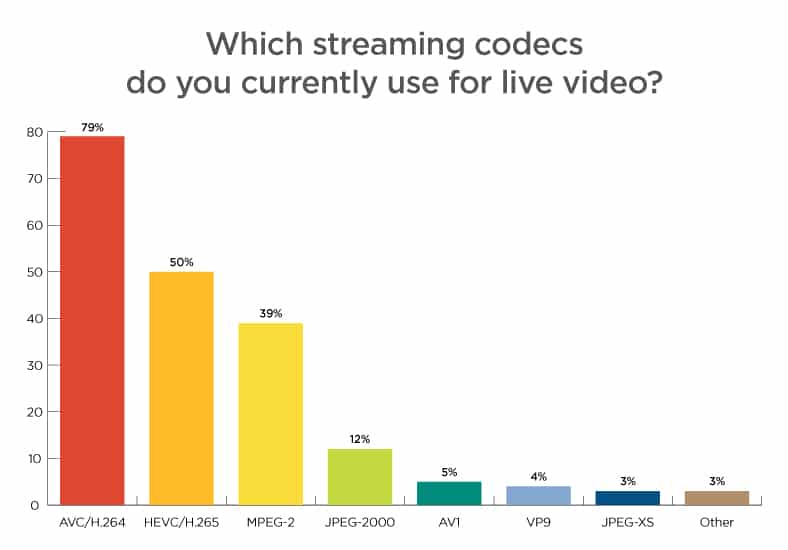 When we looked at the results from the Broadcast Report in relation to codec adoption, it came as no surprise that HEVC was up from the previous year and that the established H.264 codec saw a decrease in users. Last year, 85 percent of respondents said that they currently use H.264 (or AVC) for live video, while HEVC came in third with 47 percent. This year, however, H.264 dropped to 79 percent and HEVC rose to half of respondents saying they currently use it, finally overtaking MPEG-2. While H.264 remains the popular choice for broadcasting HD content, the increase of HEVC shows that the industry is increasingly relying on it when it comes to live video streaming 4K UHD content.
HEVC, or H.265, is a video compression codec that was developed to double the compression efficiency of the H.264/AVC codec while maintaining or even increasing picture quality. As video resolutions continues to evolve alongside HDR, the ability to stream and deliver higher quality content in 4K and even 8K over IP networks becomes an important challenge for broadcasters and video streaming professionals to overcome. While a three percent increase from last year might not seem like the biggest jump, 78 percent of those surveyed last year said they planned to use HEVC moving forward. Last year, more than three quarters of respondents said they were planning to adopt HEVC for contribution and delivery and the results from our 2021 report solidify that the industry is slowly, but surely moving away from H.264 and towards HEVC.
As 4K UHD content and the transition to IP and decentralized workflows become more common, H.264 will start to take a backseat to HEVC. However, while HEVC enables broadcasters to stream higher quality video like 4K at a manageable bitrate over IP and the cloud, technologies continue to evolve, meaning there could be room for newer codecs like AV1, JPEG-XS, and even VVC (H.266) to gain traction.
New IP Technologies May Dictate the Future of Codecs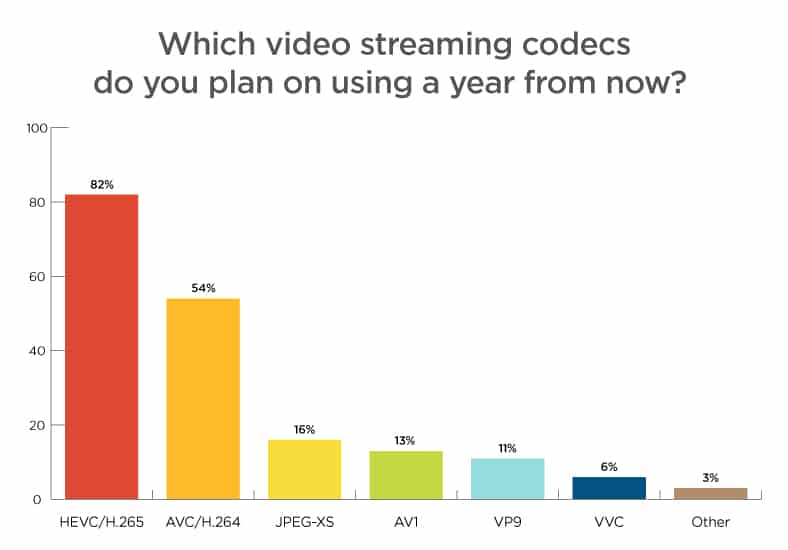 As HEVC's overtaking of AVC has proven, new technologies and standards continue to pave the way for the state of video streaming. With IP-based technologies for production looking more like the present than the future, standards like SMPTE 2110 continue to grow and fuel the adoption of lossless codecs like JPEG-XS, which can handle streaming 8K over IP. VVC (Versatile Video Coding), or H.266, seems to be next in line as it looks to achieve 30 to 50 percent better compression efficiency, but may only be ready for consumer hardware in 2022.
As the demand for higher quality video content continues to rise, HEVC adoption will also continue to trend upwards. But as new streaming technologies continue to be developed, such as H.266, and broadcasters continue to move towards IP-networking and video streaming workflows, next year's numbers might look different.
Want to see Haivision products in action?
Are you interested in seeing Haivision's solutions in action? Book a commitment-free demo today!