Broadcast IP Transformation Report: The Continuing Rise of Remote Production
One of the standout facts from the recently published Haivision Broadcast IP Transformation Report 2021 is that remote production is becoming more important to broadcasters than ever.   
Social distancing and travel restrictions have certainly contributed to the rise of remote contribution. However, COVID-19 hasn't so much caused the popularity of remote contribution so much as it accelerated an ongoing trend in the industry. And, as the findings from the report indicate, broadcasters don't consider remote production as a temporary fix – it is integral to the future of broadcast.  
Let us take a look at some of the highlights from the report to see what the status of remote production is in today's broadcast industry, and for a preview of what the future looks like. 
Remote Production Today
Remote production workflows are incredibly popular right now. 39% of broadcast professionals surveyed are employing remote production, including REMI and At-Home workflows.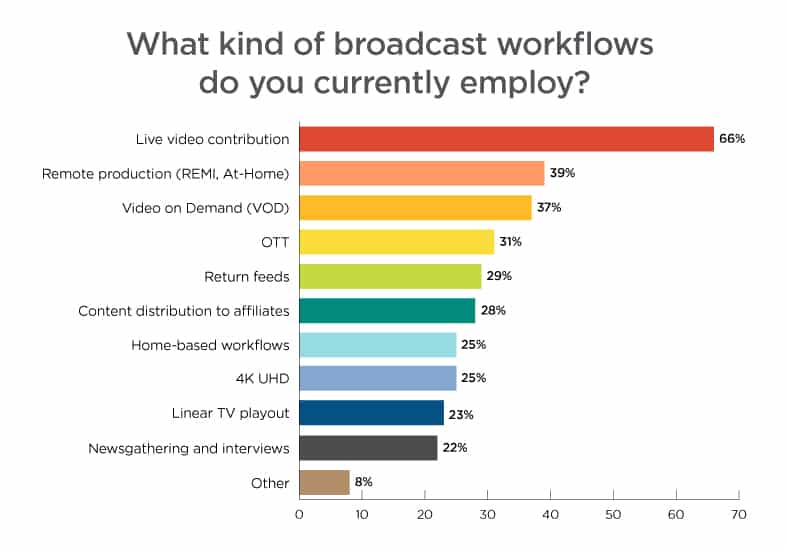 This isn't by any means a new phenomenon; remote production was already growing in popularity in 2019, but this still represents a pretty significant jump of 9% from our findings in our 2020 report. However, there has also been a shift in how remote production workflows have been implemented. Before 2020, remote production workflows largely focused on bringing live video feeds to a central location for production; now, live production has been distributed, with many professionals now working from home. Our report showed that nearly 60% of those surveyed had the majority of their workforce working from home throughout 2020, making remote collaboration more important than ever. 
There are a few reasons why remote production over IP was already becoming popular within the broadcast industry, even before COVID-19. It presents a number of advantages for broadcasters and it allows them to produce more content without many of the traditional costs or logistical challenges of both on-premise production, or even remote production over satellite. And these benefits have only grown as more broadcast professionals are working from home.  
Discover Haivision's innovative, flexible solutions for remote production.
Remote Production Tomorrow
While the events of 2020 have shown that the future can be difficult to predict, our report findings think it's safe to say that remote production isn't just a temporary fix. The vast majority of broadcasters surveyed believe that the changes made to their workflows throughout the COVID-19 pandemic will become permanent.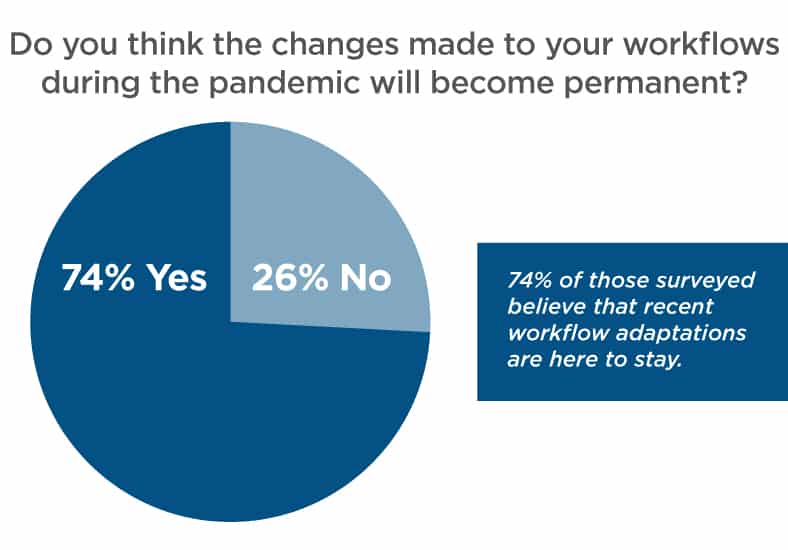 What about the broadcasters who aren't yet using remote production? Nearly half of the broadcasters we surveyed considered remote production over the internet to be one of the most important trends for their organization moving forward. Remote production is top of mind for many broadcasters, which means that we will likely continue to see an increase of remote production workflows, even as travel restrictions ease.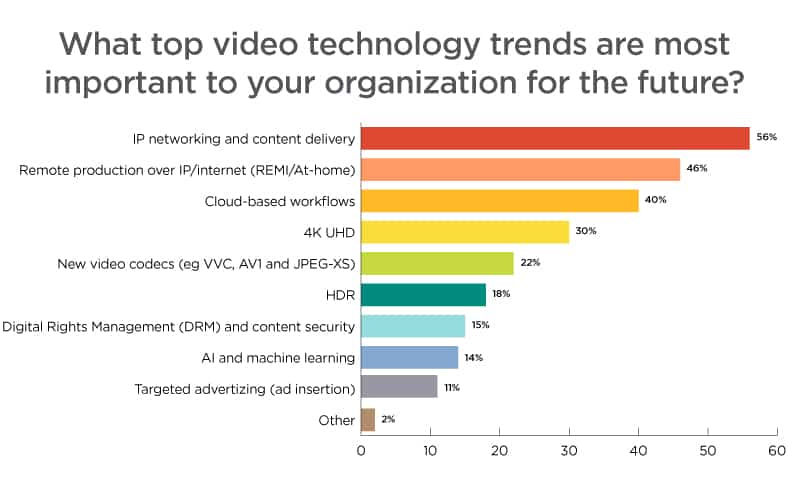 Want to learn more about how the broadcast industry has shifted throughout the COVID-19 pandemic and moving forward? Download the Haivision Broadcast IP Transformation Report 2021 to learn what broadcasters are focusing on today, and what they're planning for in the future.