Haivision Rings the Bell Closing Out Another Milestone Year
While 2020 has brought unprecedented disruption, changing the way we live and how we connect with each other, there have been some bright spots along the way. At Haivision we're proud to celebrate a major and exciting milestone in the company's history and express our gratitude to all of those who have supported us on this journey.
Haivision Makes its Debut on the TSX
You may have heard that Haivision began trading on the Toronto Stock Exchange (TSX) last week under the symbol HAI. In what can only be described as a pivotal moment in the company's 16-year history, this milestone represents a huge and proud achievement for Haivision's employees and partners. As founder and CEO, Mirko Wicha explains, Haivision has come a long way from its humble beginnings and is seen today as a prime influencer and disruptor in video streaming and an innovator in Artificial Intelligence, machine learning, and advanced cloud architectures.
"From a small start-up in 2004, Haivision has become a global player in the streaming industry. We're extremely proud to say that we've changed the world of broadcast streaming forever."
Mirko Wicha, President and CEO, Haivision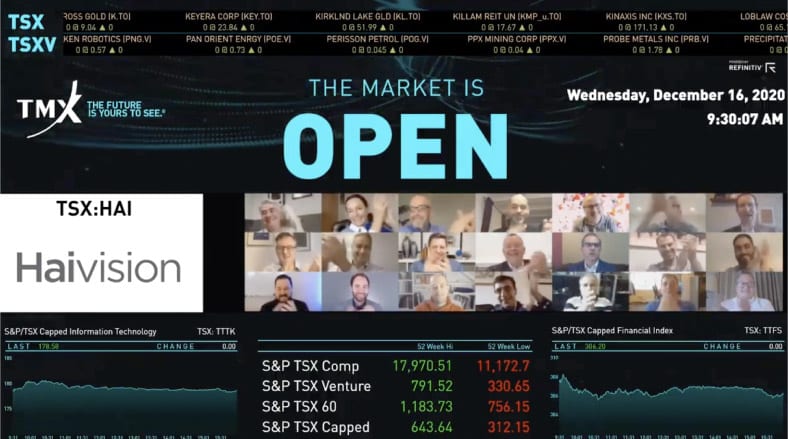 Connecting the World with Real-Time Video
As a provider of mission-critical, real-time video streaming and networking solutions, our customers are at the very heart of what we do. This year, more than ever, our high quality, low latency, secure and reliable live video solutions have helped our customers stay connected.
Whether it's for broadcast, defense, or enterprise video workflows, we remain steadfast in our commitment to helping our customers solve their video challenges. Our connected cloud and intelligent edge technologies enable global organizations to engage audiences, enhance collaboration, and support informed decision-making. Focused on ensuring the success of our customers, Haivision continues to fuel the future of IP video transformation.
Shared Success
As Haivision enters this next chapter, we share our gratitude to all our customers, partners, and employees for helping us get to this step and thank them for making Haivision what it is today. Our team of dedicated, talented, and visionary employees has worked tirelessly to deliver continued growth and innovation to solve the world's biggest live video challenges.
A Bright Future Awaits
So, what does this all mean for the future? It marks an exciting opportunity for growth and Haivision intends to push forward with selective strategic acquisitions, accelerate the introduction of new products and services, as well as fund the expansion of our global operations.
"Mission-critical real-time IP video is transforming the way organizations operate and promotes better-informed decision making. Haivision is at the heart of the accelerated adoption of IP video across all industries. Listing on the TSX heralds in the next phase of our evolution and will continue to drive our innovation in live IP video and cloud networking and accelerate our growth"
Mirko Wicha, President and CEO, Haivision
To hear more about what the announcement means to Haivision, watch the interview with our founder and CEO, Mirko.
Wishing you all a restful holiday break and a happy, healthy new year.
Editor's note: We're taking a short blog break – we'll be back in the new year!
Keep up to date on the latest live streaming news and technology for your organization.